Scottish independence: Does the rest of the UK care?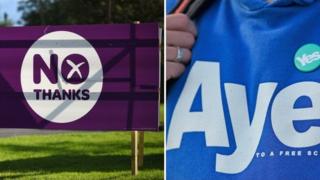 With the Scottish referendum just weeks away, the rest of the UK is speaking up. Some want the union to stay intact; others think Scotland should go its own way. But how much do people in England, Wales and Northern Ireland care about what happens?
What do physicist Prof Stephen Hawking, TV presenter Davina McCall, comedian Russell Brand and singer Morrissey have in common? Anyone following the Scottish independence referendum might be able to tell you: They have an opinion on the issue.
The first two were signatories to the Let's Stay Together open letter - set up by a group of campaigners who do not get a vote - telling Scots they hope they vote to stay in the union.
In contrast, Mr Brand said Scottish independence was a "good idea" and Morrissey said Scotland should "cut ties with the United King-dumb".
Celebrities are only a small part of the debate. But the recent interventions appear to be part of a pattern of increased interest about Scotland's decision in so-called rUK - the parts of the UK that will remain in the union if Scotland leaves.
There is no data showing the extent of engagement in the rest of the UK, but the BBC's recent debate between Scottish First Minister Alex Salmond and Better Together frontman Alistair Darling was watched on BBC Two by 1.5 million people in England, Wales and Northern Ireland.
Twitter activity during the debate showed discussion in a number of areas outside Scotland.
Analysis of UK national newspapers suggests media coverage of the referendum is also growing.
In August, there were 1,325 articles that contained the words Scotland and independence, according to the Lexis Nexis search engine. That compares with 839 in July and 879 in March. In August last year, there were just 238 searches containing those terms.
Kevin Schofield, the Sun's chief political correspondent, says part of the reason for increased coverage is undoubtedly because the referendum is only weeks away.
Stuart McAnulla, a lecturer in British politics at the University of Leeds, agrees. "As the date draws nearer, the interest does appear to be increasing, and you are seeing more attempts to address the debate from politicians and celebrities in the rest of the UK."
But he thinks certain issues that could have an impact on the whole of the UK are increasingly attracting attention too.
"Alex Salmond's proposal to have a currency union after independence has recently dominated the debate in Scotland. As this directly affects England, Wales and Northern Ireland, the issue has also focused attention south of the border," he says.
'Dimly aware'
A recent poll suggested 53% of people in England were against sharing the pound in the event of a "Yes" vote.
But Mr McAnulla adds a note of caution about other elements of the debate: "Many people in England are only dimly aware of the issues being so hotly contested in Scotland."
His views are echoed by Kevin Schofield. "If it's a Yes vote, we will be in uncharted territory - and I don't think enough people are aware of the full ramifications."
One consequence of a Yes vote could be a significant rebalancing of relationships between England and the remaining parts of the UK.
Peter Geoghegan, an Irish journalist based in Glasgow, believes the Scottish debate is of more interest to people in Northern Ireland than elsewhere in the UK. The two countries have centuries of shared history, with many in Northern Ireland descended from Scottish settlers and large Irish communities settled in Scotland.
Unionists could experience something of an identity crisis if Scotland votes for independence because the nation is such an important part for them of the union to which they belong, according to Graham Walker, professor of political history at Belfast's Queen's University.
Republicans have been less vocal, but Scottish independence would likely reinforce nationalist demands for a referendum on a united Ireland.
In Wales, says Rebecca Rumbul of the Wales Governance Centre at Cardiff University, people are "quite ambivalent" about the referendum. For the Welsh, the relationship with England is a hotter topic and many feel unconcerned about what happens with Scotland.
But Plaid Cymru leader Leanne Wood says a Scottish Yes vote would mean "the tectonic plates of the United Kingdom are shifting". Her party wants to move from devolution to self-governance.
The polls (England and Wales)
Do you support or oppose Scotland becoming a country independent from the rest of the United Kingdom?
Support 18%
Oppose 59%
Don't know 23%
Source: YouGov/The Sun, August 2014
In Scotland, polls have consistently shown a lead for the No campaign. Mr McAnulla believes this may mean "the referendum is not drawing as much attention [in rUK] as it would if the break-up of the UK appeared imminent".
A YouGov survey in early August suggested that 59% of people in England and Wales oppose Scottish independence, with 18% supporting it. The proportion of people who do not have a strong preference - don't knows - has been consistently less than a quarter over the past two years.
View from a London street: Does Scotland's decision matter?
Most passers-by on a street in north London cared - they want Scotland to vote "No".
William Franklin, a retired former history and politics teacher, 61, admits he understands why Scots might be frustrated at the coalition government in Westminster, but urges them to stay: "I'd be very sad to see [Scotland] go, because I think Scotland has contributed an enormous amount to our national life in the last 300 years."
Gay David, a retired teacher, 72, says: "I like the idea of it being a United Kingdom, with Scotland on board. I feel it's a better economic unit with Scotland rather than without it."
Others are less convinced. James Marshall is ambivalent. The actor, who has a Scottish grandfather, says: "If the Scottish do do it, I think good on them, they are a long way from Westminster. But also if they don't, I understand why."
No-one said they wanted Scotland to vote "Yes" to independence. But these views are just those of a few people on one street, on two occasions.
Another recent poll suggests that if there is a No vote, 56% of people in England want a reduction of public spending in Scotland, where, under the Barnett Formula, spending per head is higher than the UK average.
But the surveys do not necessarily indicate people are engaged. People may give answers without much thought, according to Prof Paul Cairney, of the University of Stirling.
Head or heart?
When it comes to urging Scots to stay, some evidence suggests the attachment is mainly emotional. In a speech in Perth in July, Prime Minister David Cameron said Scotland leaving the union would "break [his] heart". The text of the Let's Stay Together letter also draws on emotional arguments, talking of "bonds" and "what unites us".
Mr McAnulla says what often comes across from those south of the border is an affection for Scotland and a recognition of how similar the countries are. "A sense of common interests and shared citizenship seems to be important," he says.
Kevin Schofield agrees: "I don't think economic considerations are a major factor. It's mainly emotional."
Campaigns - many online - have also sprung up across the UK offering support for independence.
The SNP's leader at Westminster, Angus Robertson, says people are starting to see the benefits: "More and more people south of the border, such as Leanne Wood, Billy Bragg and Peter Tatchell are joining the ranks of those who believe that a Yes vote will not only be good for Scotland, but for the rest of the UK as well."
As the referendum gets closer, voices on both sides of the debate are likely to get louder still. It is just a question of who hears them.
---
How might Scotland's decision affect the rest of the UK?
---