UK warns Moscow over Ukraine aid mission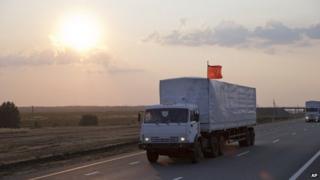 Prime Minister David Cameron and his Australian counterpart Tony Abbott have warned Moscow not to use a humanitarian aid mission as a cover for efforts to further destabilise eastern Ukraine.
Mr Abbott is visiting London where he also held talks with the foreign secretary but Mr Cameron is on holiday.
They discussed Russia in a phone call.
Russia has come under increased pressure since the downing of Malaysia Airlines flight MH17 that killed 298 people in eastern Ukraine.
Western nations have said there is growing evidence the plane was hit by a Russian-supplied missile fired by rebels. Russia has denied supplying heavy weapons to the rebels, and Russia and the rebels blame Ukrainian government forces.
Ten of the dead in last month's crash were British, while 38 were Australian.
A No 10 spokeswoman said: "On Ukraine, both leaders agreed Russia must not use the pretext of an humanitarian aid mission to further destabilise eastern Ukraine and they agreed on the importance of imposing sanctions on Russia for failing to use their influence over pro-Russian rebels to de-escalate the situation."
Aid trucks
Russia has sent hundreds of trucks to deliver aid to eastern Ukraine after an agreement was reached to allow the convoy to head to the rebel-held area.
The vehicles were covered in white tarpaulins and sprinkled with holy water before heading to the conflict zone in a televised send-off.
The 280-truck convoy is due to be met by International Committee of the Red Cross (ICRC) representatives before entering Ukraine.
But officials with both the ICRC and Ukraine's government said they had no information about what the trucks were carrying or where they were headed.
Moscow said the trucks were loaded with nearly 2,000 metric tons of cargo from baby food to portable generators and Russian Foreign Minister Sergey Lavrov said the convoy left only after Ukraine had agreed to it.
He said: "We have received a note expressing the Ukrainian side's readiness to accept the aid."
Following his meeting with Mr Abbott, Foreign Secretary Philip Hammond said: "I offered my sincere condolences to Mr Abbott for the loss of 38 Australian lives on MH17 - both Australia and Britain are united in their determination to establish responsibility for this heinous crime.
"We also discussed the situation in eastern Ukraine, and agreed on the urgent need to support in principle an ICRC-led operation to address humanitarian needs.
"We agreed that Russia must cease its support for the illegal armed separatists who are responsible for creating the instability in eastern Ukraine."