Westminster Abbey memorial to fallen aid workers planned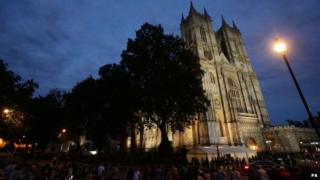 If all goes to plan, Britain is to have its first national memorial - inside Westminster Abbey - to those who have lost their lives in carrying out humanitarian work around the world.
Those behind the project hope the memorial will be installed within the next couple of years.
And, as a first step - on World Humanitarian Day on 19 August - representatives of the British government, the UN and aid agencies will attend a wreath-laying ceremony at the Innocent Victims Memorial in the precincts of Westminster Abbey.
It will be the first gathering of its kind in Britain to mark World Humanitarian Day. The day commemorates the bombing of the UN headquarters in Baghdad on 19 August 2003, which killed 22 people, including the special representative of the UN secretary general.
Since then, the graph of attacks on those engaged in humanitarian assistance of various kinds has only risen further.
The British government also intends to use its current chairmanship of the UN Security Council to press for a debate on the safety of aid workers on World Humanitarian Day, International Development Minister Desmond Swayne told the BBC.
'Fulfil a need'
"I would feel very proud," said former aid worker Dr Elaine Laycock, as she contemplated the prospect of an aid workers' memorial being unveiled in Westminster Abbey alongside the more than 3,000 other memorials and graves that have been installed there down the centuries.
"I think it will fulfil a need and I will be happy and privileged that I have had a minor part in getting it going."
Dr Laycock came face-to-face with humanitarian work in the midst of conflict - and the sometimes fatal cost of it - during the Bosnian war of the 1990s.
Her son Stuart returned to their home in a leafy Middlesex suburb after a trip to the Balkans where he had seen people fleeing from Bosnia, and told his mother: "You are a doctor. You have got to do something."
The outcome was setting up a small charity, SOS Bosnia. Dr Laycock delivered medical supplies overland to Bosnia.
She recounted narrow escapes in the course of these operations - including, she said, a bullet passing between her and her son as she stood outside Mostar hospital wearing medical clothing.
But what made her appreciate the dangers of delivering aid to a war zone more than anything else was learning from a news item that two aid workers had been killed in Bosnia - and discovering that they were close friends. They had worked for a partner charity of SOS Bosnia.
"We slept on their floor going into Bosnia," Dr Laycock said.
"They helped to drive our trucks. They showed me all kinds of ways of getting through customs which I didn't know anything about and we became firm friends."
She went to Heathrow Airport as their bodies were returned to Britain.
"No ceremony, no flags, no union jacks, just body bags. And we felt guilty... we felt shocked. We felt we couldn't help the relatives in any way really.
"We discovered then that there was no national memorial for these people or for colleagues doing the same thing."
'Service out of sight'
Harbouring the idea for more than a decade, last year she approached big charities. She won their support and then Westminster Abbey's as well.
Dr Laycock hopes that visitors to the abbey will find that a permanent memorial will not only help them to honour and respect humanitarian action and the sacrifices made in doing it - but that it will also inspire new generations to undertake such work in times of war and disaster.
Canon Andrew Tremlett, sub-dean at Westminster Abbey, said: "When somebody has died taking in aid during a conflict they might come into the national limelight for a moment and then the world moves on. And I think for their families actually having something that is a permanent memorial is probably the key thing.
"It is also a way of saying that we as a nation are honouring service that is given often out of sight and often out of a real sense of duty.
"They are people working in extreme conditions but often their service is not recognised or acknowledged."
Darby Allan's family will be attending the wreath laying at the abbey on 19 August and they also welcome the prospect of a permanent memorial.
A former navy diver and explosives expert, he was working with the British de-mining charity MAG in southern Sudan in the aftermath of the civil war. He died in 2010 after an anti-personnel mine he was dealing with exploded.
His widow Karen told me: "Darby said that if there is nobody out there clearing up [the mines] we will never be on top of it - we will always be five steps behind. And if we are five steps behind they have got control and it will never stop.
"When Darby died I have to say I resented Sudan and everyone. But, when it comes down to it, if nobody is doing it then all these awful people have won. They have not just ruined those few lives. They are ruining all the lives that are around these explosives so someone has got to help."
The world has witnessed a huge expansion of humanitarian assistance in recent decades. The British government estimates that there are now something like a quarter of a million humanitarian workers.
And Mr Swayne points out that many are working in fragile states which may have vast swathes of territory where the government does not have effective control.
He acknowledges, too, the challenges today to the concept of the impartiality of aid workers which has traditionally help to afford them protection.
"One of the reasons I think we have seen increasing danger for humanitarian workers is that they have started to be associated with the West, with intervention, with interference," he said.
"But equally there are groups out there who are not prepared to have any truck with anyone, protected or otherwise."
There is a long list of conflicts currently testing the humanitarian system - from Iraq and Gaza to South Sudan and Central African Republic.
Once again they severely test, too, the safety of the world's aid workers.