Iraq crisis: RAF Tornados to be ready to join aid effort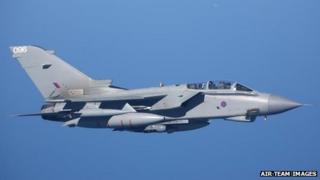 RAF Tornado jets are to be sent for possible use in the aid operation in northern Iraq, where many thousands of people are fleeing Islamist fighters.
The Ministry of Defence said the planes would leave RAF Marham in Norfolk within the next 48 hours.
The bombers will not have a combat role, but could carry out surveillance to assist delivery of aid supplies.
Here, the prime minister is resisting pressure to recall Parliament to debate a military role in the Iraq crisis.
David Cameron's spokeswoman said a recall was "not on the cards", while Foreign Secretary Philip Hammond ruled out a combat role for the UK amid growing calls for military involvement.
Aid drops
Islamic State (IS) fighters have seized territory across Iraq and Syria in the past few months, with continuing reports of the slaughter of Iraqi religious minority groups.
Among those reportedly being targeted by fighters are Christians and Yazidis in the north of Iraq, where thousands of Yazidi civilians are trapped in the Sinjar mountains without food and water.
Downing Street said helping the trapped civilians was its "immediate priority".
"We have decided to pre-position a small number of Tornados in the region so that they could, if required, use their excellent surveillance capability to gather better situational awareness to help with humanitarian effort," No 10 said, following a meeting of the government's emergency Cobra committee.
It said this would be similar to the role Tornados played during floods in the UK earlier this year.
The Ministry of Defence confirmed the jets, which will be operational by the end of the week, would not be used in a combat role.
They would be equipped with hi-tech imaging equipment to pinpoint exactly where refugees were so aid drops could be targeted, the MoD said.
The RAF has made one drop of aid to the Sinjar mountains - but aborted a second on Sunday over concerns for the safety of those on the ground. The next is likely to be carried out within the next 24 hours.
No 10 said it would work with Iraqi, Kurdish and international representatives in the area "to mitigate safety concerns".
The UK would also look at how it could play a role in getting equipment to Kurdish forces so they were better able to counter IS, No 10 added.
Former Labour Foreign Secretary Jack Straw said sending the jets was a "step in the right direction" but urged the government to look at what further military assistance could be provided.
"One way or another, these maniacs, these medieval maniacs in the so-called Islamic State have got to be defeated," he told ITV News.
The UK government is facing calls to reconvene Parliament to debate the UK's response to the unfolding crisis.
But speaking after the Cobra meeting, Mr Hammond said: "I don't think that's necessary at this time. We are talking about a humanitarian intervention."
He added: "We don't envisage a combat role at the present time."
Mr Cameron, who is on holiday in Portugal, remains "very much engaged" with decision-making on Iraq, his spokeswoman said.
"Our focus is very much on the humanitarian effort at the moment. As such, recall is not on the cards," she said.
'Worth trying'
The US has carried out four rounds of air strikes targeting IS fighters near Irbil, the capital of Iraqi Kurdistan.
Conservative MP Conor Burns, who has written to the speaker of the House of Commons asking him to recall MPs, said he did not know whether they would support military action but it was "worth trying".
"These people are being beheaded by people from IS, and our only response is to drop some food or water on them," said the MP for Bournemouth West.
He said he thought the UK should be involved in air strikes and UK special forces should be deployed.
Tory MP Andrew Rosindell said "air strikes are absolutely correct", while Tory MPs Nick de Bois and David Burrowes have written to Mr Cameron also urging a recall of MPs.
Ex-army chief Lord Dannatt added his voice to the calls, saying it was "not the moment for decision-makers to be on holiday".
He said UK troops might be needed on the ground to help support US military air strikes.
Labour MP John Mann said there was no need to recall Parliament "at this stage" but MPs must continue to follow developments closely.
The US has begun supplying weapons to the Kurdish Peshmergas who are fighting the militants, senior US officials have told the Associated Press.
Mr Burns said the UK should be "answering positively" requests from the Kurds to arm them, and that asylum should be offered in the UK.
Christians
The majority are Chaldeans, part of the Catholic Church
Numbers have fallen from around 1.5 million since the US-led invasion in 2003 to 350,000-450,000
In Nineveh province, they live mainly in towns such as Qaraqosh (also known as Baghdida), Bartella, al-Hamdaniya and Tel Kef
Yazidis
Religion incorporates elements of many faiths
Belief that God's will is carried out by seven angels
Most important among them is the Peacock Angel, considered by some Muslims and Christians to be the devil but who Yazidis say was redeemed
Because of this, Yazidis are viewed by some as devil worshippers
There are estimated to be around 500,000 Yazidis worldwide, most living in Iraq's Nineveh plains