Ex-hurricane Bertha brings high winds and rain across UK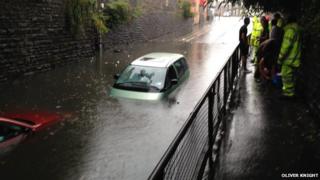 Storms and heavy rain have caused disruption across Britain as the remnants of what was Hurricane Bertha sweep across the country.
The Met Office has issued a yellow warning for rain for most of the UK, plus two amber warnings in Scotland, and is urging people to be aware of flooding, strong winds and large waves.
Holidaymakers were urged to check flood warnings before driving.
Winds gusting at 53mph were recorded in Devon.
Transport trouble
The Environment Agency has six flood warnings in place - meaning floods are "expected" - for parts of north-east and north-west England, north Wales and Somerset. Another 38 flood alerts are in place.
The two amber warnings - meaning "be prepared" - are for the Grampian and Highlands and Eilean Siar areas of Scotland.
There has been disruption around the country:
In Hull, trees were brought down, damaging cars and blocking roads, when what residents called a "mini-tornado" swept through one area
South West Trains said poor weather had affected its services, and no trains were to be expected between Shepperton in Surrey and Teddington, south-west London before 9pm. But trains are now able to run between Shepperton and Fulwell, also in south-west London
The RideLondon-Surrey 100 cycle race was shortened by 14 miles to 86 miles, and altered to avoid Leith Hill and Box Hill in Surrey
Yacht race organisers have postponed the Sevenstar Round Britain and Ireland Race because of the weather for a further 21 hours
Brittany Ferries cancelled all sailings between Portsmouth and Cherbourg, while services on the Scillonian ferry, which operates between Penzance and the Isles of Scilly, were called off
The last day of the Boardmasters festival in Newquay has been cancelled because of the bad weather
Some ferry services leaving Rathlin and Ballycastle in Northern Ireland were cancelled
A mass balloon ascent in Bristol was called off
A woman in her 60s was airlifted to hospital after being hit by a tree which blew down at Fleet Pond nature reserve in Hampshire. Her injuries are not thought to be life-threatening.
Fire crews in Norfolk, Cambridgeshire and Lincolnshire have been pumping gallons of water out of swamped houses, while marooned drivers had to abandon their cars as they became stuck in flooded roads.
London Fire Brigade (LFB) tweeted an apology to Londoners who had been forced to wait for help. The brigade said the speed at which it could attend emergencies had been hampered because of strike action, which has since ended.
Flash flooding has struck areas of Cardiff, amid heavy thunderstorms across southern England and Wales.
The AA warned drivers to beware of localised surface flooding and strong winds, while Police Scotland warned of possible "flooding in low-lying land, roads and to rivers which could cause delays to early morning traffic" on Monday.
The winds were expected to follow the rain up the country, a BBC Weather spokeswoman said.
BBC forecaster Jay Wynne said most of the bad weather would have cleared by Sunday evening but added: "Just about everywhere can expect several hours of really quite heavy rainfall."
Issuing its yellow warning - covering all of the UK except for the Outer Hebrides and part of Northern Ireland - the Met Office said the unseasonable weather "could disrupt transport and make outdoor activities dangerous".
Hurricane Bertha hit Caribbean islands last Monday before dissipating over the central Atlantic.
The storm now crossing the UK is a low-pressure system which has picked up moisture and energy left over from Bertha.
Parts of the country were expected to see between one and two inches of rain on Sunday.
The Red Cross said it had hundreds of volunteers on stand-by across the UK in case people had to be evacuated from their homes.
Balatsound in Shetland had the most rain overnight into Sunday, with 48.8mm recorded, the Met Office said.
This was followed by Bute Park in Cardiff with 40.6mm of rain and Milford Haven in Dyfed with 37mm.
Craig Woolhouse of the Environment Agency said: "Compared to the storms that we saw in January, February time, this isn't going to be as serious or severe."
But he said such weather happening in the summer period created its own hazards and asked people to stay clear of at-risk areas such as seaside promenades.