Baroness Warsi warns Tories over attracting ethnic minorities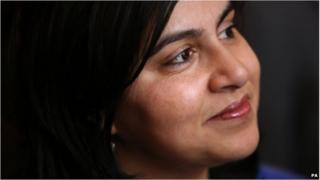 Former Conservative chairman Baroness Warsi says her party will not win the next election unless it does more to attract ethnic minority voters.
She resigned as a government minister over the UK's policy on Gaza last week but has now broadened her criticisms.
Lady Warsi told the Sunday Times and Independent on Sunday the Tories had left it "a little late" to woo ethnic minorities for the next election.
Tory MP Alec Shelbrooke said her criticisms would soon be forgotten.
Lady Warsi became the first female Muslim cabinet minister when David Cameron became prime minister in 2010.
'Shifting' leadership
In her newspaper interviews she also criticised "bitchy" male colleagues and repeated her anger at the government's handling of the fighting in Gaza.
She said: "I will be out there, vocally fighting for an outright Conservative majority.
"But the electoral reality is that we will not win outright Conservative majorities until we start attracting more of the ethnic vote."
Lady Warsi said she was one of David Cameron's earliest supporters in 2005, thinking: "This is a guy who gets today's Britain. He's a new kind of Conservative. He's comfortable with today's Britain."
But she added: "I think the party has shifted since then. The party leadership has shifted since then. I think over time it will be a regressive move because we have to appeal to all of Britain, not just because it's morally the right thing to do... but because it is an electoral reality.
"We've probably left it a little too late to take this part of the electorate seriously."
The Conservatives won a 36% share of the vote at the last election, but gained the support of just 16% of ethnic minority voters.
Israeli relationship
Rejecting criticisms that she was not up to her job, Lady Warsi said she was a "brown, working-class woman from the North. People have been telling me I'm not good enough since the day I was born".
She also said that "some of the bitchiest women I've ever met in my life are the men in politics".
She called on the government to "recognise Palestine as a state" and impose an arms embargo on Israel.
She also criticised Chancellor George Osborne and chief whip Michael Gove for not using their "very, very close" relations with the Israeli government to help end the hostilities.
"What is the point of having that strong relationship if you can't use it to move them to a position which is in their interests and our interests?"
She also rejected Mr Osborne's claim that her resignation had been "unnecessary".
She said: "My actions would not have been necessary if he had done what he should have done, which is pick up the phone to people he is incredibly close to and say: 'It's unnecessary for you to meet your ends by taking out power stations, taking out homes, taking out schools and killing kids on beaches.'"
'Who was Lady Warsi?'
Mr Shelbrooke, who is the MP for Elmet and Rothwell, said Lady Warsi had "embarrassed herself" and her criticisms would "quickly fizzle out".
He said: "I think within a week, 'Who was Lady Warsi?' will be the question. She has ended her career in many ways."
He went on to describe Lady Warsi's comments as "unfortunate", and said that by "spreading out into areas of different criticism" she had undermined the real reason for her resignation.
"Isn't it best to step down on a point of principle, but don't you embarrass yourself if you start launching into a tirade about many other things, when you come from a position of having never held elected office," he said.
BBC political correspondent Chris Mason said there was a "big gap" between the Conservative Party's overall appeal and its appeal to ethnic minorities.
He said: "This is not the kind of thing that they [the Conservative Party] would want her to be saying in public just a short distance away from the election campaign."
The Conservative Party said it would not comment on Lady Warsi's newspaper interviews at the moment.
Lady Warsi stood for election to the Commons in her home town of Dewsbury in 2005 but lost to Labour. She was appointed to the House of Lords in 2007.