Remnants of Hurricane Bertha to batter UK with rain and high winds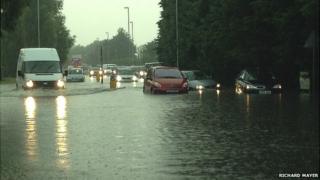 High winds and heavy rain are expected to lash much of the UK as remnants of what was Hurricane Bertha reach the country early on Sunday.
The stormy weather is expected to hit southern England first, before heading north and battering Scotland on Sunday evening and into Monday.
The Met Office has issued a yellow "be aware" warning for some regions.
The Environment Agency urged holidaymakers to check flood warnings before setting off in their cars.
Hurricane Bertha hit Caribbean islands on Monday before dissipating over the central Atlantic.
The storm heading towards the UK is a low-pressure system which has picked up moisture and energy left over from Bertha.
Rain had begun arriving in Cornwall, Devon, Somerset and Wales on Saturday evening ahead of the forecast storms, BBC Weather said.
Parts of the country are expected to see between half an inch and an inch of rain on Sunday.
Wind gusts of 30-40 mph are expected inland and could reach 40-50 mph in coastal areas.
The Red Cross has mobilised hundreds of volunteers who are on stand-by amid fears that people will need to be evacuated from their homes.
Flash floods
Yacht race organisers have re-routed the course of the Sevenstar Round Britain and Ireland Race, which starts in Cowes on the Isle of Wight on Sunday, to try to avoid the worst of the bad weather.
The Royal Racing Club said it had decided to reverse the course and sail anticlockwise.
In a statement, the club said it hoped the move would "provide a more enjoyable race for all the yachts in the fleet".
Craig Woolhouse, the Environment Agency's flood risk manager, said the heavy rain on Sunday could cause flooding in some areas.
He said: "On Sunday and Monday a combination of high spring tides and strong westerly winds brings a risk of large waves and spray and possible flooding to the south-west coast of England and along the Severn estuary.
"If you're travelling to or from holiday then check your flood risk before setting off and don't drive through flood waters."
As the storm moved northwards, southern England would be left with brighter, showery weather later on Sunday, a BBC Weather spokeswoman said.
On Friday night, flash floods hit parts of eastern England, causing power cuts; a number of homes had to be evacuated.
Power cuts
In some parts of Britain, more than a month's rain fell, while the Red Cross said it was "on standby" to help anyone affected by the deluge.
Fire crews in Norfolk, Cambridgeshire and Lincolnshire worked through the night to pump water out of homes.
Power cuts hit 1,400 properties, but most were reconnected by 02:00 BST on Saturday morning.
A spokeswoman for BBC Weather said the conditions were not atypical for the time of year, but could prove a shock coming after a lengthy spell of warm weather.
Environment minister George Eustice said: "We are working closely with the Flood Forecasting Centre, the Environment Agency, local authorities and emergency services to ensure we are prepared for any potential flooding this weekend."
The regions affected by the yellow weather warnings are: Central, Tayside & Fife, East Midlands, East of England, Grampian, Highlands & Eilean Siar, London & South East England, North East England, North West England, Northern Ireland, Orkney & Shetland, SW Scotland, Lothian Borders, South West England, Strathclyde, Wales, West Midlands, Yorkshire & Humber.