Ebola aid cash from UK increased by £3m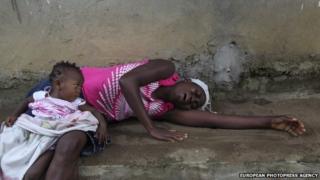 The UK is to give more money to help countries affected by the outbreak of the deadly Ebola virus, the Foreign Office has said.
Foreign Secretary Philip Hammond chaired a meeting of the government's Cobra emergency committee meeting to discuss the spread of the infection.
A sum of £2m had previously been pledged, but this figure will now be increased to £5m.
A total of 932 people have died during the outbreak, latest figures show.
More than 1,700 people have been infected in Sierra Leone, Liberia, Guinea and a small number of possible cases have also been identified in Nigeria, the World Health Organisation (WHO) said.
A spokesman for the Foreign Office confirmed that an extra £3m would now be provided to "strengthen health systems in Sierra Leone and Liberia" and support the WHO, children's charity UNICEF and the International Rescue Committee in limiting Ebola's spread.
The spokesman added that the risk for the infection to spread to the UK was "very low".
He said: "The UK has an established, well-tested system to deal with any known or suspected imported case of this disease."
Ebola virus disease (EVD)
Symptoms include high fever, bleeding and central nervous system damage
Fatality rate can reach 90% - but the current outbreak is about 55%
Incubation period is two to 21 days
There is no known cure or vaccine
Supportive care such as rehydrating patients who have diarrhoea and vomiting can help recovery
Fruit bats are considered to be virus' natural host
Ebola: Experimental treatments
Earlier, the Department for International Development (DfID) said the new funds will be used to help provide specialist care to those affected, improve monitoring and tracking of the disease and provide better health information to rural communities.
International Development Secretary Justine Greening echoed Mr Hammond's sentiments and said: "It is absolutely critical that the UK helps to make sure the Ebola outbreak is contained.
"At the same time we are working with our partners to care for people affected by the outbreak, particularly children left without their parents."