FGM: UK police investigate 'dozens' of cases since 2011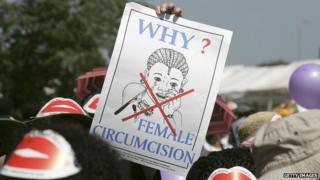 Police forces have revealed there have been dozens of investigations into female genital mutilation (FGM) in the UK over the past three years.
West Midlands Police said they had investigated 49 suspected offences in the first six months of this year.
But others refused to give any figures on FGM-related investigations.
The NSPCC said it was "encouraging" more cases were being reported despite no convictions. Police said every case was "thoroughly investigated".
FGM includes procedures that remove or injure female genital organs for non-medical reasons.
Dangers include severe bleeding, problems urinating, infections, infertility, mental health problems, complications in childbirth and increased risk of death for newborns.
The practice has been illegal in the UK since 1985 but the first prosecutions, which are currently ongoing, were not until this year.
'Hidden and complex'
The data was gathered by the Press Association through Freedom of Information (FoI) requests.
West Midlands Police said the number of cases during the first six months of this year was more than the number recorded in 2013 - 41 - while there were 25 cases in 2012 and eight in 2011.
There were two arrests in 2012 but no charges were brought.
Avon and Somerset Police investigated 16 suspected FGM cases in 2013, compared with four in 2012 and six in 2011. It has also investigated six cases between January and June this year but did not provide information about arrests or charges.
Information about FGM cases given to the Press Association included:
Police Scotland said a strategic group set up last year to tackle FGM investigated 14 child welfare concerns, involving 16 girls, from 2013 to 2014 but that in each case, no criminality was found
Staffordshire Police investigated six cases between January and June this year, 10 in 2013 and one in 2012 and said there had been no arrests or charges
Sussex Police has responded to 12 "incidents of intelligence-led FGM reports" since 2011 and while one arrest was made, no-one was charged
Hampshire, Thames Valley, Suffolk, Lancashire and North Wales police forces investigated suspected FGM in the past three years but no-one was arrested or charged
Many forces said they had not recorded any suspected FGM cases but said other agencies could have been involved in such investigations.
Others did not reveal whether or not they had investigated cases of FGM, citing concern for victims.
The NSPCC children's charity has set up a 24-hour FGM helpline and received 321 reports since it launched last June, 148 of which were referred to police and children's services.
John Cameron, the NSPCC's head of child protection, said: "These figures do not come as a surprise to us.
"We know that the police face a very tough challenge in gaining the appropriate evidence to prove that a child is at risk of FGM - a hidden and complex cultural form of child abuse."
Mr Cameron added: "Although there is currently a lack of convictions, it is encouraging that more FGM-related concerns are being reported to the police and we hope their intervention has prevented children from becoming victims of this abuse."
New measures
The Association of Chief Police Officers (Acpo) said every FGM allegation was "thoroughly investigated" but noted that many calls to police were about the welfare of suspected victims rather than specific crimes, meaning that arrests were "not appropriate".
Commander Mak Chishty, Acpo's lead for FGM, said: "I am heartened that people are becoming increasingly confident in reporting suspected FGM - it shows that we are getting the message out to communities and other professionals that FGM is a crime and will not be tolerated."
The Home Affairs Committee into FGM has said there could be as many as 170,000 victims in the UK.
Sarian Karim Kamara, who lives in Peckham, south west London and underwent FGM in Sierra Leone as an 11-year-old, said FGM remained a "secretive" act.
"For the police to be investigating these cases, it shows lots of people are aware now and people working with women and children are confident to ask questions," she added.
Prime Minister David Cameron used the recent Girl Summit to announce new measures to protect girls in England and Wales who were at risk.
As part of this, parents will face prosecution if they fail to stop their daughters undergoing FGM.
The domestic changes will not apply in Scotland or Northern Ireland, but governments there said they had their own plans to tackle the problem.