Briton says he has been fighting alongside militants in Iraq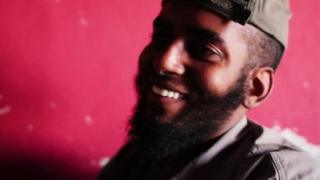 A Briton who claims he is fighting alongside militants in Syria has said he also recently went to Iraq to be at the "forefront" of the conflict there.
The man, who calls himself Abu Abdullah, said he had been involved in fighting in the Iraqi city of Ramadi.
It is the first evidence to emerge of British fighters travelling to take part in the conflict in Iraq.
UK officials say up to 500 Britons may have travelled to the Middle East, but most are believed to be in Syria.
Abu Abdullah, a 20-year-old British Eritrean man who is a convert to Islam, told BBC Two's Newsnight programme he was "one of the few" British fighters to have fought in Iraq.
He said he had travelled to Syria to fight in the conflict there around nine months ago.
The BBC cannot verify Abu Abdullah's claims to have been in Iraq but his account has been corroborated by other foreign fighters in the militant group, and the BBC has seen photos apparently showing him in Iraq.
Militants from the Islamic State in Iraq and the Levant, known as IS or Isis, declared the creation of a "caliphate" - an Islamic state last month.
The Islamic State (IS) now claims control over large parts of Iraq and Syria.
Abu Abdullah told Newsnight the fighting in Ramadi was, "the best fighting and the hardest fighting", saying that "you are in a city made of concrete and everything is blowing up." He added: "US-made weapons, that was the war booty."
Isis have been accused of widespread human rights abuses in Iraq, but Abu Abdullah said: "They talk as if we oppress people but everyone I have come across loves dowla [IS].
"The only ones that hate us are the ignorant, the Jews, the Christians and the Shia."
Newsnight reporter Secunder Kermani, who interviewed Abu Abdullah via an instant messaging service, said he understood that he was in Raqqa, an IS stronghold in Syria.
It is from there he recently uploaded photos posing in front of the decapitated torsos of men he identified as dead Syrian army soldiers - believed to have been executed and put on public display by IS.
When challenged on this, Abu Abdullah said: "The people loved to see the heads of nusayris (derogatory term for Alawites) on spikes and I feel no sympathy for them because they are enemies of Allah".
Parents' concerns
He would not say where he was from in the UK, but said his family - who he said were Christian - was aware he was there.
Abu Abdullah said they had tried to convince him to return home from the Middle East, but said he was happy there and that there was "no going back". He told Newsnight: "They say what all parents would say, 'come back you're crazy etc'. But I'm here for the sake of Allah".
The Briton is also understood to have taken part in an IS promotional video posted online.
In it, he said: "You are not living under oppression, you are not living under rule, we don't need any democracy, we don't need any communism or anything like that, all we need to Sharia."
Although concerns had previously been raised about the possibility of Britons fighting in Iraq, until now there has been no real evidence of this taking place.
It comes as the UN this week warned up to 200,000 people had been forced to flee their homes in northern Iraq after IS militants took over more towns in area.
Militants have now taken over much of northern Iraq, as well as large parts of Syria.