British tourists unaware of local laws - Foreign Office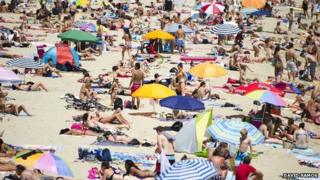 Most Brits abroad risk flouting local laws by failing to research them before going on holiday, figures suggest.
While 70% said swotting up on local customs would improve their trip, just 40% do so before travelling, the poll of 1,000 people by the Foreign and Commonwealth Office found.
Wearing camouflage in Barbados and driving a dirty car in Russia are some offences tourists could fall foul of.
The Foreign Office urged people to research destinations before holidays.
As well as publishing the findings of its survey of 1,000 people, it also listed a string of new local laws published abroad this year.
'Show respect'
Foreign Office Minister Mark Simmonds said spending five minutes reading the office's travel advice could save travellers time in the long run.
"It's easy to throw caution to the wind when on holiday but it's important to be aware of the local laws and customs before you set off," Mr Simmonds said.
"We want people to enjoy their holidays so we encourage them to be prepared.
"Laws and customs vary widely from country to country and visitors should respect them to avoid causing offence or even being arrested."
Other existing laws or customs which may not be immediately obvious to tourists are jaywalking in the US, entering churches or mosques in Italy and Turkey with exposed arms or legs, and leaving the beach while still wearing swimwear in Barcelona and Majorca.