Jury out in 'cash in underwear' trial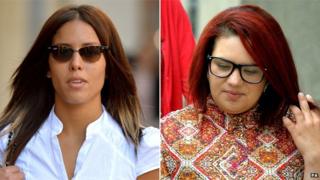 The jury in the Old Bailey trial of a 27-year-old woman accused of trying to smuggle money to fighters in Syria has retired to consider its verdict.
Nawal Msaad was stopped at Heathrow with 20,000 euros (£16,000) as she tried to board a flight to Istanbul.
Prosecutors say she was recruited by Amal El-Wahabi, 27, to take money to Syria "to support the jihadist cause".
Ms Msaad, who denies hiding the cash in her underwear, and Mrs El-Wahabi - both from London - deny funding terrorism.
During the trial, prosecutors said Miss Msaad was searched at the airport and a roll of cash - made up of 500-euro banknotes - was discovered. They said the cash had been concealed in her body inside a condom.
Giving evidence, the student said she had hid the cash to keep it safe - but had only put it under the waist strap of her leggings.
The court heard she had been recruited by her friend Mrs El-Wahabi to take the cash to Mrs El-Wahabi's husband Aine Davis in Syria.