UK to explore Bitcoin role - George Osborne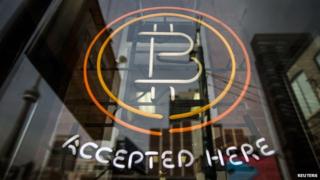 The government is to explore the role that digital currencies such as Bitcoin could play in the financial system and whether they need to be regulated.
Chancellor George Osborne has set out measures he said would make Britain the "global centre of financial innovation".
Bitcoin is not controlled by a central bank but is growing in popularity.
Other measures include plans to make it easier for businesses to get loans from sources other than banks.
Speaking at the Innovate Finance conference in London, Mr Osborne said the measures would help firms to "grow and succeed".
---
How Bitcoins work
Bitcoin is often referred to as a new kind of currency.
But it may be better to think of its units as being virtual tokens that have value because enough people believe they do and there is a finite number of them.
Each bitcoin is represented by a unique online registration number.
These numbers are created through a process called "mining", which involves a computer solving a difficult mathematical problem with a 64-digit solution.
Each time a problem is solved the computer's owner is rewarded with bitcoins.
To receive a bitcoin, a user must also have a Bitcoin address - a randomly generated string of 27 to 34 letters and numbers - which acts as a kind of virtual postbox to and from which the bitcoins are sent.
Since there is no registry of these addresses, people can use them to protect their anonymity when making a transaction.
These addresses are in turn stored in Bitcoin wallets, which are used to manage savings. They operate like privately run bank accounts - with the proviso that if the data is lost, so are the bitcoins contained.
---
'Stimulate innovation'
The chancellor said that it was "only by harnessing innovations in finance, alongside our existing world class knowledge and skills in financial services, that we'll ensure Britain's financial sector continues to meet the diverse needs of businesses and consumers here and around the globe".
As part of the drive, he announced a government investigation into the potential for virtual and digital currencies such as Bitcoin to encourage innovation in the UK's financial sector, while also examining their potential risks.
More than 60,000 online retailers now accept virtual currencies worldwide and the growing popularity has seen backers of the currencies push for greater mainstream adoption. However, their use has also been linked to illegal activity online.
BBC technology correspondent Rory Cellan-Jones said: "Enthusiasts say it is the future of money, detractors claim that it is extremely volatile and is used mainly by drug dealers and money launderers.
"Now the government says it will examine whether this and other virtual currencies should be regulated, how they could help stimulate innovation - and their potential risks."
Small businesses
Mr Osborne also outlined plans to introduce legislation to help small and medium-sized businesses access alternative sources of finance if they have been turned down for finance by their bank.
He said the government would encourage the growth of "alternative finance providers" - a major part of the financial and technology, or FinTech sector.
Business Secretary Vince Cable said small businesses often "give up" applying for finance if they have been turned down by a bank.
Stuart Law, chief executive of the alternative finance provider Assetz Capital, said: "Part of the problem with banks is that they often take several months to approve or reject a loan application.
"As a result, many rejected businesses will have wasted three months already, and will often have missed the opportunity that they needed the money for.
"What is needed is greater awareness of alternative sources of finance at the application stage."
The government will publish a strategy document later this year setting out how it intends to make the UK the global centre of financial innovation.