Scottish independence: Darling v Salmond debate viewing figures revealed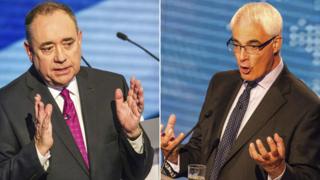 The first independence debate between Scotland's First Minister Alex Salmond and Better Together leader Alistair Darling was watched by 1.2m TV viewers in Scotland, broadcaster STV has said.
A further 500,000 viewers across the UK watched the debate online as STV's website struggled to cope with demand.
Bobby Hain, director of channels at STV, has apologised to viewers who had difficulties accessing the live stream.
A second debate is to take place on the BBC later this month.
Scotland will go to the polls in a referendum on 18 September, answering the "yes/no" question: "Should Scotland be an independent country?"
Both sides of Yes/No campaigns claimed victory after the debate, which was broadcast between 20:00 and 22:00 on Tuesday.
STV said the two-hour programme attracted more than a third of viewers (36%) in Scotland, making it the best-performing political debate in the country for more than 10 years.
The TV audience averaged 765,000 viewers with a peak audience of 920,000. STV said that, in total, the TV programme reached 1.2 million viewers and 500,000 online.
'System overwhelmed'
Twitter recorded 186,000 tweets about the debate, reaching a rate of over 2,000 tweets per minute at its peak.
However, some viewers outside Scotland took to Twitter to express their frustration after the STV website's live stream crashed.
Labour MP Diane Abbott wrote: "Finally watching #indyref debate after struggling for 40 minutes with dead STV Iplayer."
Broadcaster Andrew Neil added: "Trying to watch Salmond v Darling on STV iPlayer. But system seem overwhelmed. Any thoughts?"
On Wednesday, Mr Hain said: "We are aware that, although the live online stream achieved over half a million viewers, due to extremely high demand some viewers had difficulties accessing the programme.
"We apologise to anyone who was not able to watch the debate in full. The programme is available on our catch-up service, STV Player."
Second debate
The debate will also be aired on the BBC Parliament channel at 19:00 BST on Wednesday.
The BBC had asked for permission to stream the debate live online and use it on other platforms, but the request was declined by STV.
Details of the second debate between Mr Salmond and Mr Darling, to be staged by the BBC, are still being finalised.
However, it it is expected to take place on or around 25 August, before postal ballots are sent out to voters.
---
A referendum on whether Scotland should become independent is to take place
People resident in Scotland will be able to take part in the vote, answering the "yes/no" question: "Should Scotland be an independent country?"
The referendum will take place on Thursday, 18 September 2014
Go to the BBC's Scotland Decides page for analysis, background and explainers on the independence debate.
---
...