'Offensive' Rio Christ statue advert banned by watchdog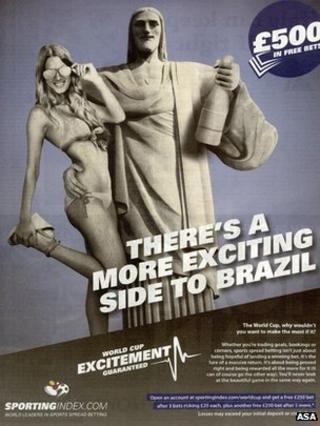 Complaints over an advert showing Rio de Janeiro's Christ the Redeemer statue and a bikini-clad woman have been upheld by the advertising watchdog.
The advert for betting firm Sporting Index appeared in two newspapers around the time of the World Cup in Brazil.
The Advertising Standards Authority said it was "likely to cause serious or widespread offence" and breached its code by linking gambling and sex.
Complainant the Evangelical Alliance said it was "relieved" by the ruling.
'Humorous intention'
Sporting Index said the digitally-altered image was intended to be "light-hearted, humorous and cartoon-like".
It argued the statue was strongly associated with Rio and Brazil as much as if not more than its religious connotations.
The advert appeared in business newspaper City AM and the Racing Post.
It showed Jesus with his right arm around a woman in a bikini, and a bottle in his left hand, with the statue's face altered to show a smile.
A caption said: "There's a more exciting side to Brazil", suggesting readers bet on the recent football World Cup that was held in the country.
The complaint from the Evangelical Alliance was among 25 received by the ASA. They centred on whether the advert was offensive.
The watchdog said that despite the statue being "strongly evocative of Brazil in general", it was "still a depiction of Jesus and was likely to carry a large degree of religious significance for Christians in particular, and that care should therefore be taken over its use".
Despite the "humorous intention", the advert was "likely to cause offence to a significant number of Christians", the ASA said, "because it depicted the person of Jesus in a context at odds with commonly held beliefs about the nature of Christ".
'Poor taste'
The ASA also said the advert breached its rules by linking "gambling and sexual success" as the altered statue appeared to be celebrating a gambling win.
It said the advert must not appear again in its current form.
Dr Dave Landrum, of the Evangelical Alliance, said: "We are grateful that the Advertising Standards Authority has upheld the alliance's view on behalf of Christians everywhere.
"This advertisement was in poor taste and clearly likely to cause offence."