Chief inspector of borders and immigration resigns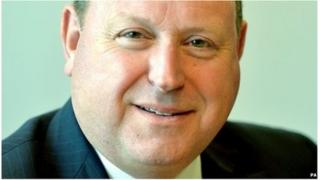 The independent chief inspector of borders and immigration is to leave the role more than six months early.
John Vine had been due to step down in July 2015 when his term ended but will now leave on 31 December this year.
During his six years in the role, his office issued more than 50 inspection reports, some of which were highly critical of the immigration system.
Shadow immigration minister David Hanson said the Home Office had tried to silence Mr Vine's criticisms.
'Indictment'
He said Mr Vine had brought a "rigorous and determined approach to the role of scrutinising our borders" and "highlighted flaws in the Home Secretary's immigration regime".
His departure, Mr Hanson said, was "an indictment of [Home Secretary] Theresa May's attempts to silence his criticisms of her failing immigration system".
Mrs May thanked Mr Vine "for his hard work and dedication in scrutinising the vital work of controlling immigration and protecting Britain's borders".
Mr Vine will publish his final annual inspection report in December, which will cover the period 2013/14.
Alongside the reports, the inspector has also made almost 500 recommendations.
Among his findings:
Correspondents say Mr Vine had become frustrated that the Home Office had changed the timing of the publication of his reports.
Previously they were released at midnight, ensuring more media coverage, but now they are published during the day.
Mr Hanson said: "It's a real shame that the home secretary's increasing manipulation of the release of his reports to try to hide her failures has clearly led to his frustration and ultimately resignation from the role."
Mr Vine said this was not the reason he had resigned but said he had "raised my concerns with the change in publication processes with the home secretary and the Home Affairs Committee".
---
Analysis
Danny Shaw, home affairs correspondent, BBC News
For six years, John Vine painted a bleak picture of Britain's border and immigration controls. His reports were a severe embarrassment for a government that had pledged to bring down net migration and restore order to the system.
Until January this year, Mr Vine determined when his reports were released - usually with an embargo time that suited newspapers and broadcasters, ensuring maximum coverage.
Then the Home Office decided it would control the publication times, with reports put out at short notice and sometimes grouped together. The result was less publicity.
Publicly, John Vine says that's not the reason he's quitting. But there's a sense that frustration with the new arrangements may well have played a part.
---
Mr Vine said he now wanted a new challenge.
"Leaving at the end of the year and before the next general election, rather than in July 2015 when my term is due to end, makes sense."
Mr Vine said he was "proud" of establishing the inspectorate, which had been "a catalyst for significant change and improvement across the UK's border and immigration functions".
He had previously agreed two extensions to his original term of office.
Reports pending
The BBC's Danny Shaw said it is understood that the Home Office has been sent two of his reports that it has not yet published.
One of them, about the system for dealing with allegations about illegal immigrants, was submitted on 29 May and another, on Operation Nexus - an initiative to deport foreign criminals - was sent on 26 June.
If the reports are to be laid before both the Commons and the Lords, the earliest publication date is 13 October.
Four other reports are expected to have been delivered to the Home Office by the end of the summer, including an investigation into the handling of asylum claims based on sexual orientation.
Keith Vaz, chairman of the Home Affairs Select Committee, said Mr Vine had done "outstanding work in holding to account those who manage our borders and immigration service".
He said: "When Mr Vine last appeared before the committee we were very concerned about the number of reports that he had produced which had not been published by the Home Office. All of these must be released immediately."