Ankle tags to monitor offenders' alcohol consumption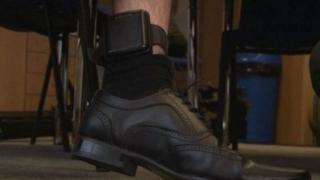 Repeat offenders convicted of alcohol-related crimes will be forced to wear ankle tags that monitor their drinking, under a new pilot scheme.
The mandatory tags record levels of alcohol in the sweat every 30 minutes.
The 12-month trial in four London boroughs - Croydon, Lambeth, Southwark and Sutton - gives courts the ability to ban people from drinking alcohol.
Up to 150 offenders are expected to be made to wear the tags for four months to make sure they comply.
'Booze culture'
The pilot scheme, which aims to reduce the costs and harm caused by excess drinking, has been endorsed by the local authorities within the four boroughs, and also has the backing of the Metropolitan Police and the Mayor of London, Boris Johnson.
Mr Johnson said: "Alcohol-fuelled criminal behaviour is a real scourge on our high streets, deterring law-abiding citizens from enjoying our great city, especially at night, placing massive strain on frontline services, while costing businesses and the taxpayer billions of pounds.
"I pledged to tackle this booze culture by making the case to government for new powers to allow mandatory alcohol testing as an additional enforcement option for the courts."
Alcohol tagging has been trialled in previous schemes in the UK, but this is the first time courts will be able to enforce it.
A study by the Office of National Statistics estimated that 880,000 violent incidents had taken place in England and Wales in 2012-13 which were linked to alcohol or drugs.
For the next year, courts in the four boroughs will be able to impose "alcohol abstinence and monitoring requirements" on people who commit crimes while drunk.
Offenders who are subject to the orders will have to wear an anklet known as a transdermal tag. If the alcohol level in their sweat shows they have been drinking, they may face further penalties.
The tags will not be used on people who are alcohol dependent or require specialist medical support.
Up to 150 offenders are to be fitted with the tags, including motorists repeatedly convicted of drink-driving and people who cause trouble after drinking too much in pubs and clubs.
The scheme is similar to programmes already in force in the US, and Professor Keith Humphreys, who is a former senior policy adviser at the drug policy office in the White House, told the BBC that ankle-tagging worked.
"The effect on crime has been dramatic. In South Dakota - where this was initially developed - there has been a 12% drop in repeat drink driving arrests and a 9% drop in domestic violence arrests," he said.
Ed Boyd from the independent think tank, Centre for Social Justice, said: "We need more innovations like this in our criminal justice system to try and tackle some of these root causes that are leading people to offend.
"All of the trials we have had so far have been voluntary, what is different with this one is that it's compulsory. I think this is a crucial part of making it successful."
But Ian Lawrence, the general secretary of probation and family court workers' union Napo, said he had "real concerns" over how the scheme would work in the long term.
He said: "At least... the scheme is being piloted to allow for analysis."
In March 2012 the House of Lords amended the Legal Aid, Sentencing and Punishment of Offenders Act to allow courts to pilot alcohol-tagging schemes if requested by the relevant authorities.