Gaza conflict: Cameron pledges £3m in extra UK aid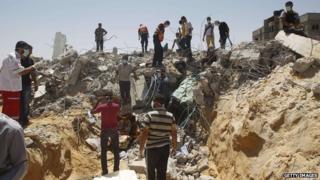 An additional £3m in UK aid is to be made available to help the humanitarian situation in Gaza, Prime Minister David Cameron has announced.
Mr Cameron said Britain had already sent £7m to provide food, shelter and assistance for people in the area.
He said the situation in Gaza was "completely tragic and ghastly" and called for an "unconditional, immediate, humanitarian ceasefire".
Some 1,200 Palestinians and 55 Israelis have been killed in the conflict.
The extra £3m will fund an emergency food programme for Gaza's 1.8 million people, International Development Secretary Justine Greening said.
The money is expected to provide emergency food for more than 300,000 people for a month.
Ms Greening said the UN had reported food shortages and the government was pushing for better humanitarian access so aid agencies could get staff and supplies into Gaza.
She described the situation in Gaza as "dire", with more than 200,000 people, many of them children, having been displaced from their homes.
Longest conflict
It comes after the UN said Israel had launched a deadly attack on one of its school, which was housing refugees - despite repeated warnings that civilians were sheltering there.
The Israeli military said an initial inquiry suggested soldiers responded after militants had fired mortar shells "from the vicinity of the school".
The current conflict is now the longest between Israel and Palestinian groups in Gaza.
Speaking at a question and answer session in the UK, Mr Cameron called on both Israel and Hamas, the dominant group in Gaza, to end the fighting - but blamed Hamas for breaking earlier ceasefires.
He said the loss of life in the conflict had been "appalling" and it had been "heart-rending watching these scenes on our television".
"But while calling for an unconditional, immediate ceasefire, we do have to be clear about a couple of points," Mr Cameron added.
Maximum damage
"Yes, it is awful what is happening in Gaza and the loss of life, but we do have to remember, whenever we have had a ceasefire in the last few days, it has been a ceasefire that has been obeyed and observed by the Israelis but it has not been observed by Hamas.
"Hamas continue the rocket attacks that are not aimed at military targets or political targets. They are aimed, indiscriminately, into Israel in order to do the maximum damage they possibly can.
"And so we do have to understand that that has to stop in order for there to be a lasting ceasefire," he said.
Foreign Secretary Philip Hammond appealed for an immediate ceasefire by both sides - but refused to say whether he regarded Israel's military action as "disproportionate".
Asked on BBC Radio 4's Today programme whether he thought Israel's actions were disproportionate, he said there would be a proper evaluation of the offensive "in the fullness of time".
"What Israel does in Gaza must be proportionate. That's a requirement of international law," he said.