Max Mosley sues Google over sex party photos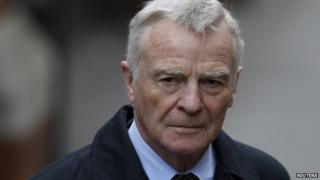 Ex-Formula 1 boss Max Mosley is suing Google for continuing to publish images of him with prostitutes at a sex party.
He has issued High Court proceedings against the internet firm for breaches of the Data Protection Act and misusing private information.
The 74-year-old wants Google to block pictures first published in the now-defunct tabloid News of the World, which he successfully sued in 2008.
Google said it had been working with Mr Mosley "to address his concerns".
Mr Mosley won damages from the News of the World after it published a story alleging he had organised a Nazi-themed orgy.
'Extensive attempts'
The newspaper had secretly filmed the former president of the FIA, motor sport's world governing body, with five prostitutes and later published a front-page story.
Mr Mosley - the son of 1930s fascist leader Sir Oswald Mosley - won £60,000 after a judge ruled there was no substance to the allegation that there had been a Nazi theme to the sex party and found that his privacy had been breached.
In that ruling, the High Court also said the article was not in the public interest.
Mr Mosley has said the role-play at a rented Chelsea basement flat was harmless, consensual and private.
His lawyers Payne Hicks Beach said the new proceedings, against Google UK and parent firm Google Inc, follow "extensive attempts to persuade Google to resolve the matter outside the courts".
Mr Mosley said: "Adherence to the rule of law is essential to any society. This must include compliance with the decisions of the courts.
"As the gateway to the internet Google makes enormous profits and has great influence, so I have not taken this action lightly.
"But Google should operate within the law rather than according to rules it makes itself. It cannot be allowed to ignore judgements in our courts."
A Google spokeswoman said: "We have worked with Mr Mosley to address his concerns and taken down hundreds of URLs [web pages] about which he has notified us."
'Practical measures'
The legal action comes after a European court decision earlier this year ruling that Google had to listen, and sometimes comply, when individuals asked it to remove links to newspaper articles or websites containing personal information about them.
Mr Mosley's case is not directly linked to the hearing on the "right to be forgotten" however, which concerns the removal of search results.
In a statement, his lawyers said: "This is not a case about the 'right to be forgotten' or freedom of speech. Nor does it require Google to act as an arbiter of what is lawful and what is not.
"The High Court has already made that decision in respect of the images concerned. All that Google is being asked to do is to take practical measures to give effect to that decision of the court."
Mr Mosley has already won similar cases in France and Germany.