Michael Adebolajo loses first part of Rigby murder appeal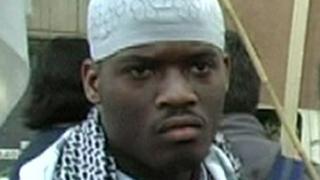 Michael Adebolajo has lost the first stage of an appeal against his conviction and sentence over the 2013 murder of Fusilier Lee Rigby in London.
He was sentenced to a whole-life term but a judge has refused him permission to appeal, the Judicial Office said.
It said the case would now be heard by a panel of Court of Appeal judges.
Meanwhile, the Sun newspaper has said Adebolajo and Michael Adebowale, who was also convicted, have together received about £212,000 in legal aid.
A freedom of information request by the newspaper revealed the pair received a combined £212,613.32 to cover legal bills, comprising £138,803.96 for Adebolajo and £73,809.36 for Adebowale.
Legal aid helps with the cost of legal advice and representation for people who cannot afford it.
'Soldier of Allah'
Fusilier Rigby, from Middleton, Greater Manchester was killed as he returned to his barracks in Woolwich, south-east London, on 22 May 2013. He died of multiple cut and stab wounds.
Adebolajo and Adebowale were found guilty of driving into him at 30 to 40mph, before dragging his body into the road and attacking him with knives and a meat cleaver.
They were convicted of his murder at London's Old Bailey in December.
Sentencing them in February, Mr Justice Sweeney said Adebolajo and Adebowale, both British-born Muslim converts, had "butchered" the 25-year-old soldier.
He said Adebolajo's was one of those "rare cases" warranting a whole-life term - meaning he must spend the rest of his life in prison.
The 29-year-old, from Romford, east London - who denied murder - lodged an appeal against his conviction in January prior to his sentence.
He had described killing Fusilier Rigby as a "military operation" and claimed during the trial that he was a "soldier of Allah".
The Judicial Office said his papers had now been considered by a single judge, sitting in private, who refused him permission to appeal.
It added, however, that Adebolajo had renewed the challenge to his conviction and sentence, which would now be heard by a panel of Court of Appeal judges in London.
A full hearing is due to be held in front of three judges.
Adebowale, who was jailed for a minimum of 45 years for his part in the murder, was earlier this month granted permission to challenge his sentence.
No date has been fixed for the hearing of his appeal bid or Adebolajo's renewed applications.