MH17 crash: Victims' families to meet David Cameron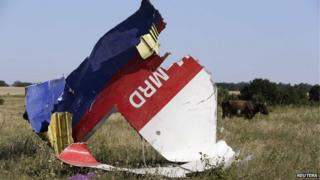 Families of the British victims of the MH17 air crash are to meet Prime Minister David Cameron.
The Malaysia Airlines plane was shot down on 17 July in eastern Ukraine, where pro-Russian rebels have been fighting Ukrainian government forces.
All 298 passengers, including 10 Britons, on the flight from Amsterdam to Kuala Lumpur were killed.
At least two families have confirmed they will attend Tuesday's meeting at 10 Downing Street.
Earlier, a Ukrainian official said "black-box" flight recorders from the plane show it came down because of a massive, explosive loss of pressure when it was hit by a rocket.
The data and voice recorders are being analysed by UK aviation experts.
Ukrainian authorities and the pro-Russian Ukrainian rebels have accused each other of being behind the downing of the plane.
Heavy fighting is continuing in the region and has prevented international police from reaching the crash site, which they want to secure so experts can examine wreckage and human remains.
So far, 227 coffins containing victims' remains have been sent to the Netherlands for identification but some passengers' bodies have yet to be recovered.
Mr Cameron has previously said his thoughts are with those who have lost loved ones and that "those who were responsible must be held to account".
'Commitment'
His meeting with victims' relatives comes after it was announced the UK will send 1,350 military personnel to Poland for exercises to support Nato allies in Eastern Europe and the Baltic states.
Defence Secretary Michael Fallon said it was important to show commitment to the collective security of Nato members at a time of heightened tensions in Eastern Europe.
Mr Cameron, US President Barack Obama and European leaders have agreed that a deal on sanctions against Russia should be decided on Tuesday.
They called on EU ambassadors, due to meet in Brussels, to finalise arrangements for economic sanctions.
It is also understood the leaders discussed what processes could be put in place to encourage Russia to seek a peaceful resolution to the conflict, BBC News Channel chief political correspondent Norman Smith said.