World War One: Every Man Remembered database launched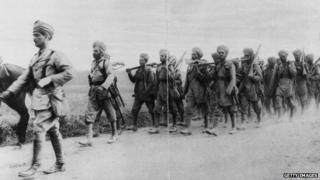 The Royal British Legion has started an online campaign to gather tributes to every Commonwealth serviceman and woman who died in World War One.
A total of 1,117,077 service personnel from what was then the British Empire died in the war, which began in 1914.
The Every Man Remembered database allows people to commemorate relatives or someone they knew, or find a person for whom no-one has yet left a tribute.
The legion called it the "greatest act of remembrance" to mark the centenary.
The people being remembered came from the UK and numerous parts of the British Empire - from which the Commonwealth emerged - including Africa, Australia, India and the West Indies.
The Every Man Remembered campaign was inspired by a British Explorer Scout who wrote to the legion after visiting a war cemetery in Belgium.
The Scout asked why some of the graves had dozens of poppies and crosses next to them, while others had none.
Dr Stephen Clarke, head of remembrance at the legion, said: "We're asking the British public to commemorate every one of the 1,117,077 men and women who died during the First World War through our huge online database.
"You can look up a family member, namesake, or make a random search - the important thing is that not a single one of them is left without a dedication and recognition of the role they played in providing the freedom we have today."
Several famous people have been pictured holding photographs of servicemen to whom they are connected.
These include actor Tom Hardy, Downton Abbey creator Lord Julian Fellowes, TV historian Dan Snow and West Ham United vice chairman Karren Brady .