First female Navy commander leaves ship amid affair claim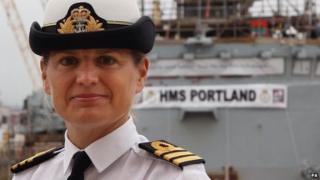 The first female commander of a major Royal Navy warship is understood to have left her vessel after allegations of an affair with one of her officers.
Cdr Sarah West, 42, was coming to the end of a seven-month deployment on board the Type 23 frigate HMS Portland.
The Ministry of Defence would not confirm the claims but said she was currently on annual leave.
It said it was aware of a complaint of a breach of the code of social conduct on board the ship.
When she took up her post in May 2012, Cdr West said it was "definitely the highlight of my 16 years in the Royal Navy so far".
'Treating seriously'
Cdr West had been on board HMS Portland since January on a deployment. The ship is currently in the Caribbean and is due to return to its base in Plymouth shortly.
It is not clear when Cdr West left the frigate.
---
Analysis
Jane Peel, BBC News
Relationships between service personnel are not prohibited, but they are governed by the Armed Forces Code of Social Conduct.
It says the standards of behaviour required of servicemen and women are necessarily more demanding than those required by society at large. This is because of the need to maintain trust and loyalty between commanders and those they command.
The test is to what extent the individual's conduct has adversely affected team cohesion and operational effectiveness. A breach of the code is dealt with according to its seriousness.
Sanctions range from "timely advice" through to a range of disciplinary penalties.
They include a formal warning, official censure, removal from a particular post and, in the worst cases, dismissal from service. The code applies to all members of the Armed Forces, regardless of their rank.
---
The MoD has confirmed she is now on annual leave and her second-in-command is in charge of the ship.
It said it was "aware of an allegation of a breach of the code of social conduct" on board the ship, which it was "treating seriously".
"Anyone who is found to fall short of the Royal Navy's high standards can expect to face appropriate action," a spokesperson said.
The code governs personal relationships, which are not permitted if they compromise operational effectiveness.
There is no confirmation that Cdr West has had a relationship with a fellow officer. But if she is found to have breached the Royal Navy code, she could be removed from her command.