Law minister Robert Buckland was censured for code breach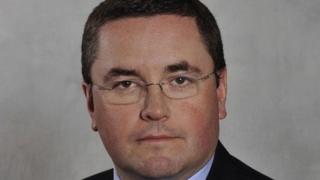 The new Solicitor General was censured for breaching the legal profession's code of conduct three years ago, the government has confirmed.
Conservative MP Robert Buckland, who is a barrister, was handed the role by David Cameron in last week's reshuffle.
The Attorney General's office said Mr Buckland had committed only a "minor breach" of the rules.
Labour said it made "a mockery" of the office of Solicitor General and there were "urgent questions to answer".
The row follows allegations in the Mail on Sunday newspaper.
It claimed that in 2008, before Mr Buckland was MP for Swindon South, he had asked another barrister to pass him case notes from an earlier criminal trial which he was not entitled to; and that three years later Mr Buckland faced a tribunal by the ruling body for barristers.
'Not required'
A spokesman for the Attorney General's office said: "It is a matter of public record that in May 2011, Robert Buckland was found to have committed a minor breach of the Code of Conduct of the Bar of England and Wales.
"He was not suspended or fined and continued to practice and sit as a recorder.
"This finding was removed from the Bar records after two years and therefore Mr Buckland was not required to declare it upon appointment as Solicitor General."
But Labour MP Emily Thornberry, the shadow solicitor general, said: "It makes a mockery of that position to have it occupied by someone who has been found guilty of professional misconduct and who also failed to disclose that to the prime minister.
"The prime minister himself urgently needs to set out what checks, if any, were made into the background of his law officers."
She said David Cameron should say whether he still considered Mr Buckland's appointment "appropriate".