UK storms cause further disruption after lightning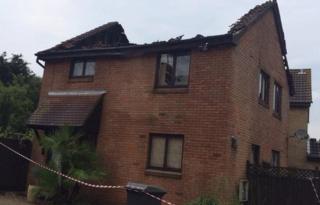 Storms have caused further disruption in parts of the UK after recent high temperatures and lightning strikes.
Heathrow Airport said 17 flights had been cancelled because of the stormy weather. Several others were delayed.
The roof of a house in Chelmsford collapsed after being struck by lightning overnight. No-one was hurt.
There are amber weather warnings for rain in place for most of England and Wales. There are also flood alerts.
Electrical surge
Earlier Heathrow had warned of a strong likelihood of thunderstorms, lightning strikes and hail, which can significantly reduce capacity for take-offs and landing.
Passengers have been advised to check whether their flight will be operating before travelling to the airport.
Manchester Airport said an electrical surge caused by thunderstorms had caused some delays.
General duty manager Gary Brown said: "It impacted on some lifts and baggage systems but most systems are now back up and running. We'll wait to see what happens this afternoon when we're expecting thunder."
In other developments:
Kent fire service said the first floor and roof of a house in Sittingbourne had been set alight by a lightning strike and a bungalow's roof was hit in Whitstable
Lightning struck houses in the market village of Lenham, near Maidstone, and caused several small fires in Willesborough, near Ashford
West Midlands fire service rescued a woman from flood water after she become trapped in her car on the A458 in Stourton. The woman was unharmed
Twenty-seven patients on the cardiology ward at the Royal United Hospital in Bath had to be moved to other parts of the hospital after heavy rain brought down part of a ceiling
A football match between Nuneaton Town and Coventry City was abandoned after the pitch was "pelted with torrential rain, thunder, lightning and gale-force winds"
'Torrential downpours'
The Met Office issued the amber weather warning, which means "be prepared", for all but the far northern, eastern and western edges of England and Wales.
There is also a yellow weather warning - meaning "be aware" - for rain for the rest of the UK except north-west Scotland.
Forecasters said a very warm and humid air mass across the UK would become "increasingly unstable", leading to more intense thunderstorms.
"We're expecting heavy thundery showers through the weekend with the potential for torrential downpours, large hail, frequent lightning and locally strong gusts," Met Office chief meteorologist Paul Gundersen said.
"Not everywhere will see thunderstorms but where they do form we could see significant rainfall in a short space of time, which could cause localised flooding."
The Environment Agency has one flood warning and 53 flood alerts in place across parts of England.
The agency's John Curtin said there had been 60mm (2in) of rainfall in some places on Saturday, including Westonbirt in Gloucestershire and Bradford-on-Avon, Wiltshire.
A Met Office level two heat warning - meaning "alert and readiness" - has been in place for southern and eastern England and the Midlands since Wednesday.
This is triggered when there is a 60% or more chance of heatwave conditions.
Much of the country saw sunshine and hot weather on Friday, with temperatures in Gravesend, Kent, reaching 32.3C (90F), a high for 2014.
'Prolonged heat'
The Open golf championship at Hoylake on Merseyside used a two-tee start for the first time in its history because of the risk of thunderstorms.
Play started from both the first and 10th tees to allow for the third round to be completed even if there are delays of up to five hours.
Public Health England (PHE) said the hot weather would continue across much of England this weekend and is urging people to keep up to date with weather forecasts.
PHE director for health protection Dr Paul Cosford said: "Prolonged heat poses a particular risk to the old, young and those with heart and lung conditions, who may feel the effects of hot weather more acutely than others.
"Heat-health warnings are worth repeating and although rain is forecast for the weekend it also will remain very warm in a number of places."
The sweltering temperatures that ended the week came after lightning struck the UK more than 3,000 times in the early hours of Friday.