'Holocaust Survivors' Club' looks to next generation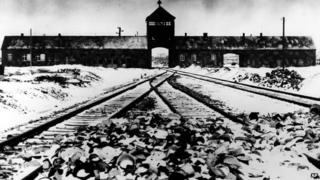 Tens of thousands of Jewish victims of the Nazis sought refuge in Britain in the 1930s and 1940s, but there are thought to be no more than 1,000 still living here, most of them over 80. A far smaller number of concentration camp survivors remain, and their children are taking on the task of preserving their memories.
Every spring, a group of concentration camp survivors gets together in London to celebrate another year since their liberation from the Nazis.
The group was first brought together in 1945, and is known as the 45 Aid Society.
Reunions have a reputation for being wild parties. Most of the survivors are in their 80s, but once dinner is out of the way, a handful make their way to the corner where a band is playing and put on an energetic display of dance moves.
All the same, nowadays they find themselves outnumbered on the dance floor by their children and grandchildren.
Michael Helfgott is the son of a survivor and a member of what is known as "the second generation", one of about 200 who have gradually become more involved in the 45 Aid Society.
"When I was in my teens and I started to come here, the energy and the life that these guys had were amazing," he says.
"They really partied, as people who had gone through enormous tragedy, enormous hell, and yet they survived. And they wanted to party with one another, there was a bond between them that was so special."
The 45 Aid Society came about after the British government offered to allow 1,000 under-16s who had survived the camps to settle in the UK, but the Nazi killing machine had been so brutal that only 732 could be found.
With no families left to look after them, they were airlifted to Britain and rehabilitated together.
They have remained a close-knit club ever since, referring to each other affectionately as "The Boys" - even though some are female.
Acting as a substitute for the families they lost, they have socialised together regularly and raised money for charities, which they see as their way of repaying Britain for allowing them to rebuild their lives here.
Michael's father, Ben, 84, a square-jawed, astute gentleman, is Chairman of the 45 Aid Society.
Whilst other survivor groups do exist elsewhere in the world, notably in the US and Israel, to Ben's mind, none compare to The Boys.
""I don't think there has been any other survivor group that has been so close," he says. "We grew up together. We came here and lived in hostels, we used to go out together, dancing and to the cinema," he says.
The youngest of The Boys were infants when they arrived, and they were adopted by British Jewish families.
The teenagers were taught English, learned professions and made their own way in life. In times of trouble, they helped one another out.
"We were a prop for each other, we were in the same boat," says Ben Helfgott.
Having lived through a number of concentration camps including Buchenwald and Theresienstadt, he went on to be a successful businessman and a champion weightlifter in his spare time, competing for Britain at the Olympic Games in 1956 and 1960.
Nowadays though, much of his time is spent trying to ensure that what he went through will be remembered even when he and his contemporaries are no longer here.
"More and more of us are dying, which is very sad," he says. "But for the last few years we have been having our reunion together with our children," he says.
"They're taking over from us, and they will be able to pass on to their generations what we went through and to ensure that such events don't happen again."
Holocaust education is part of the national curriculum, and many of the surviving, original members of the 45 Aid Society give talks in secondary schools, telling their life stories and warning of where intolerance can lead.
The Holocaust Educational Trust has trained some of the survivors' children to take on that work when their parents no longer can.
As recently as this January, Sue Bermange, 57, was part of what she describes as a "double-act" with her father, Bob Obuchowski, a holocaust survivor and another one of The Boys.
Together, they visited dozens of schools, between them telling of how he survived first the Lodz ghetto and then Auschwitz and other concentration camps.
---
A survivor's story
Berek "Bob" Obuchowski was born into a Jewish family in Poland in 1928. His parents, grandfather and all three of his siblings were murdered by the Nazis. He survived three-and-a-half years in the ghettos of Ozorkow and Lodz, before being loaded onto a cattle truck and deported to Birkenau, a camp which was part of Auschwitz. He spent time in another camp, Babice, and in Auschwitz itself, before being taken on a "death march" to Buchenwald in Germany. He was marched from there to Theresienstadt in Czechoslovakia, a journey which only 75 of 2,775 prisoners survived. Theresienstadt was liberated on 8 May 1945. Bob and the other 731 "Boys" were airlifted to the UK and rehabilitated near Windermere in the Lake District, which Bob described as "paradise". He died in London on 4 June 2014.
---
It is a measure of Obuchowski's spirit that he managed to attend this year's reunion - in a wheelchair, just weeks before he died of lung cancer in June.
Now Ms Bermange is determined to carry on without him.
"I want to take over, and instead of doing an introduction I will be telling his story from start to finish using photos and slides," she says.
"When the last survivor doesn't speak anymore, the second generation will step in."
Ms Bermange has already done a number of talks on her own, and says that even at one remove, talks by survivors' children are very effective.
"The children still see it still as a personal account," she says.
"They ask questions about my dad, but then they also ask me questions that relate to my life, as the child of a survivor."
Establishing a national programme of talks like those given by Bermange is one of a number of proposals under consideration by the prime minister's Commission on the Holocaust.
By the end of this year, the Commission's aim is to come up with a time-proof strategy to record Nazi atrocities, based on suggestions submitted by interested parties and the general public.
Ben Helfgott is an advisor to the Commission, and the Chief Rabbi of the UK and the Commonwealth, Efraim Mirvis, is a member.
"We need to guarantee that we have a major facility, whatever it might end up being, through which we can educate," says Rabbi Mirvis.
"And I'm pretty certain that we will also utilise modern, sophisticated methods, through which we can communicate to people right around the country."
The most technologically advanced ideas that have been submitted include a plan to build interactive video recordings of survivors that can answer questions.
Another idea is to create a virtual reality version of a concentration camp in a museum, which, it is claimed, would give people an idea of what conditions there were like there.
---
The Holocaust in numbers
•6 million Jews were murdered in the Holocaust, along with others considered by the Nazis to be "Untermenschen" - "subhumans"
•According to the Yad Vashem museum in Jerusalem, around 1 million Jews survived
•Around 70,000 Jewish victims of the Nazis are believed to have settled in the UK in the years leading up to the Second World War and afterwards
•It's believed there are no more than 1,000 still living in Britain
•The first major concentration camp to be liberated was Majdanek in Poland, on 23 July 1944, by Soviet troops. Other camps continued to operate, including Auschwitz, which wasn't liberated until January 1945.
---
For Ben Helfgott, however, nothing can replace the fellow Boys who've died in recent years.
Of the original 732 members of the 45 Aid Society, just over 100 are left, and eight have died in the first six months of 2014.
"Now that we've got to the age where we all seem to be going away, it's very sad, and when we come to the reunion and they're not there, we miss them," he says.
"But we have the continuation of our children, and knowing they will carry the flame makes me feel much better."
Listen to The Boys: Remembering the Holocaust on Heart and Soul on BBC World Service radio on Sunday 20 July at 08:30 GMT and again on Monday 21 July at 14:30 GMT. You can hear it online via the Heart and Soul web page.