UK temperature hits 2014 high as heatwave forecast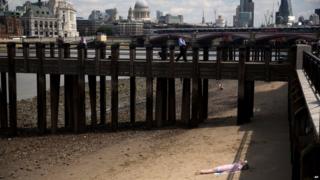 The UK has seen its hottest day of the year so far, with temperatures set to climb even higher on Friday.
The Met Office said a high of 29.1C had been recorded at Hampton in Greater London.
And a heat-wave warning is in place for some areas on Friday, with temperatures tipped to reach as high as 32C, forecasters added.
Health officials have urged people to "keep safe" avoid the sun between 11:00 and 15:00 and to drink plenty of water.
The heatwave warning covers parts of south east England, London, the east of England, the East Midlands and West Midlands.
Dr Paul Cosford, director for health protection at Public Health England (PHE), said: "While many people enjoy hot weather, high temperatures can be dangerous, especially for people who may be particularly vulnerable such as older people, young children and those with serious illnesses."
He also urged Muslims observing Ramadan to "balance food and fluid intake between fasts and especially to drink enough water."
Steve Ramsdale, deputy chief meteorologist at the Met Office, said: "We've got hot and humid air moving up from the continent which will see temperatures rise through to the weekend, with some high day and night-time temperatures expected by Friday.
"The humidity will make it feel close, muggy and uncomfortable for many in the heat and people should take steps to keep cool - particularly across the areas where we have issued a heat health alert."