Libor bank fines to fund military veteran homes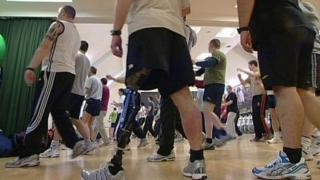 Almost £20m raised by fining the banking industry will partly fund specialist accommodation for military veterans, the prime minister has said.
The money will pay for eight projects across the UK, David Cameron confirmed.
New homes or apartments will be created in Edinburgh, south London and Wales.
The money has been raised from fines paid out by banks involved in the Libor scandal, after they were found to have altered inter-bank lending rates.
Mr Cameron said: "One of the greatest worries for our troops when they are wounded or injured is how they and their families will continue with daily life."
"We should do all we can to take away those worries by providing them with the specialist help and support they need to continue to live their lives and these projects will help to deliver that."
The projects include:
£6m for 65 units of temporary, supported and independent accommodation in Colchester, Essex
£1.25m for five purpose-built apartments in Llandudno, Conwy, for vulnerable veterans with sight or limb loss
£400,000 to adapt the kitchens and gardens in the homes of 20 wheelchair-dependent, lifetime disabled veterans and their families
£240,000 to adapt 30 bathrooms for disabled and older veterans in west London
£2.5m for a new dementia unit for up to 30 veterans in Broadstairs, Kent
£112,000 to replace windows at accommodation in Kent
£550,000 to improve conditions, including lighting suitable for people with dementia, in Scotland
£8.6m to accommodate 418 more veterans and families in south London and Edinburgh
Mr Cameron is also expected to open a new permanent World War One gallery at the Imperial War Museum as part of the commemorations of the centenary of the conflict.
Emergency service charities, search and rescue and lifeboat services, scouts, guides, cadets and St John Ambulance are also set to be given a share of the fines.