Child abuse image investigation leads to 660 arrests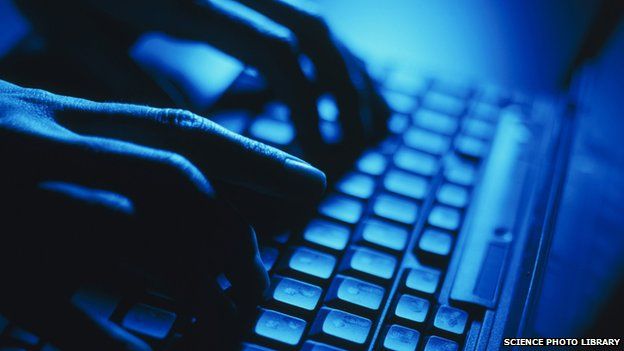 More than 650 suspected paedophiles have been arrested as part of a six-month operation targeting people accessing child abuse images online.
The National Crime Agency (NCA) said among the 660 were teachers, medical staff, former police officers, a social services worker and scout leader.
More than 400 children have been protected as a result, the agency said.
Child protection experts have praised the arrests but warned they were "the tip of the iceberg".
Jim Gamble, former chief executive of the Child Exploitation and Online Protection Centre (Ceop), called for "consistent and persistent investigations of this kind".
Justice Secretary Chris Grayling, meanwhile, said: "Somebody who starts looking at pictures on the internet may go on to do something much worse, so this is the kind of operation that is absolutely vital for our society."
Arrests were made across the UK, with the majority of those held having had no previous contact with police.
The NCA said 39 of those arrested were registered sex offenders.
Charges already brought range from possessing indecent images of children to serious sexual assault.
The NCA stressed that none of those arrested was a serving or former MP or member of the government.
Paedophile arrests
660
suspected paedophiles arrested
431
children have been protected
39 suspects were registered sex offenders

833 buildings searched

9,172 devices, including phones and laptops, seized
Thinkstock
Examples of those arrested include:
A doctor, who has been charged and remains in custody over images of child abuse
A grandfather who had access to 17 grandchildren, two of whom were allegedly abused by the man. He was taken into custody
A foster carer, who was caring for a 12-year-old, was arrested. He had no previous convictions or allegations of offending
The NCA said 431 children "in the care, custody or control" of the suspects had been protected as a result of the arrests.
Of those, 127 were said to be at immediate risk of harm.
Notable arrests by job/voluntary position
Teachers: 6
School workers: 4
Police staff: 2
Medical staff: 2
Ex-police officers: 2
Social services staff: 1
Private sector working with children: 1
Scout leader: 1
The BBC's Tom Symonds said the NCA had been secretive about the methods used to catch the suspected paedophiles.
But officers had told him it was a breakthrough in the way intelligence was used and passed between the various police forces rather than a technological advance.
NCA deputy director general Phil Gormley said sex offenders should understand they cannot avoid detection while using the internet, even on the so-called "dark net".
The "dark net" refers to content that does not appear in normal search engines and users often use virtual currencies to avoid detection. According to the Internet Watch Foundation, less than 1% of its content is hosted in the UK.
Mr Gormley told BBC News that the NCA would "look at the learning from this operation".
"We've now got the opportunity to understand the methodology, the techniques employed by people who are operating on the internet in this way - and their motivation."
He said the success of the operation had been based on "the coming together of a tactic and technique that works".
He refused to elaborate further, adding: "I want as much confusion and fear to remain in the minds of those who want to perpetrate this sort of crime as possible so I'm not going to enable them to thwart and avoid our approaches and our responses."
By Danny Shaw, BBC home affairs correspondent
When the National Crime Agency was formed it was given unique powers to co-ordinate investigations and task police forces to carry out inquiries.
Now we can see the impact that's having - with every UK force involved in Operation Notarise. But, as police have warned, it will take far more than arrests to grip the problem of online abuse.
The vast majority of websites which host indecent material operate from overseas; some of them, on the so-called "dark net", are more difficult to identify.
There is also a growing trade in swapping and paying for indecent material via organised criminal gangs. Only last month the head of the Virtual Global Taskforce told BBC News it was an "epidemic".
It is clear Operation Notarise is only a small part of the efforts to deal with the problem.
Former Ceop chief Mr Gamble told BBC News those arrested were "not people in dirty macs".
"They're the people that sit in doctor's surgeries," he said.
"They're involved in government. They're involved elsewhere in works and civil service and the police and whatever else. We need to make sure that no-one can hide from the long arm of the law when they are threatening our children."
And John Carr, of the Children's Charities' Coalition on Internet Safety, said: "We're never going to solve this problem... if we simply rely on conventional policing, knocking on people's doors and making arrests.
"The volumes of images are simply too large.
"It's really, yet again, a challenge to the internet industry to help us all do more to stamp out these terrible crimes."
The investigation had involved 45 police forces across England, Wales, Scotland and Northern Ireland and an "unprecedented level of co-operation," the NCA said.
Officers have searched 833 properties and examined 9,172 computers, phones and hard drives.
Susie Hargreaves, chief executive of the Internet Watch Foundation charity, hailed the NCA's "joined-up approach", saying the scale of the operation was "really quite impressive".
"These are new people, they're not people with a previous history of looking at these images," she told BBC News.
"It just goes to show that, actually, if you're out there, you're looking at the images, you're doing something criminal - it's not a victimless crime."
No full regional breakdown of arrests have been published.
But individual police forces have revealed that:
In Wales, 59 people were arrested as part of the operation
In Scotland, there were 13 arrests
In Northern Ireland, there were 14
West Midlands Police made 41 arrests
Hampshire Police made 33 arrests
Merseyside Police made 26 arrests
Sussex Police made 24 arrests
Devon and Cornwall Police made 22 arrests
Staffordshire Police made 19 arrests
Lancashire Police made 16 arrests
Surrey Police made seven arrests
Prime Minister David Cameron said the NCA was "doing a very good job at bringing all the modern methods of policing and technology together to go after the perpetrators of a particularly horrible crime".
Chief Constable Simon Bailey, of the Association of Chief Police Officers, said the operation marked a turning point in investigating those suspected of paedophilia.
He said it was the first time the NCA had worked with other forces to "come together to target the possession, distribution, sharing of indecent images of children - so it's a really significant event".
But he said that, while there was "a role for law enforcement to play", there was "a bigger role for service providers, for the industry to play in disrupting and preventing" paedophile activity on the internet.
Claire Lilley, head of online safety at the NSPCC said the operation had rescued children from abuse.
But she warned: "Industry has to find inventive ways of blocking the flow of such horrendous pictures which are only produced through the suffering of defenceless children - many of who are not even old enough to go to school.
"So while this operation must be rightly applauded we should view it as yet another warning sign that far more needs to be done if we are to stem the sordid trade in these images, which are often used by those who go on to abuse children."
Related Internet Links
The BBC is not responsible for the content of external sites.