What Philip Hammond stands to gain as foreign secretary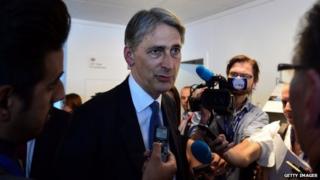 Philip Hammond has one of the biggest prizes of this reshuffle. He has gained promotion to one of the "great offices of state" - prime minister, chancellor, home secretary and foreign secretary - but he has only nine months to prove himself before the general election looms.
Can he be much more than a caretaker? Or is there still time to make a distinctive mark?
---
Turbulent Middle East
Mr Hammond is being plunged into an exceptionally turbulent Middle East.
A few hours before William Hague announced he was stepping down as foreign secretary, Mr Hammond was defending the government's position over Israel and Gaza in the House of Commons.
On Sunday, Mr Hague was in Vienna as one of the foreign ministers trying to prevent a breakdown of talks with Iran over its disputed nuclear programme.
---
Gaza and Israel
We should not expect any significant change of tone from Mr Hammond.
Any foreign secretary walks a tightrope between historic support for Israel and criticism of its military methods.
British language is usually calibrated to the "nth degree" to balance those aims against a general endorsement of Palestinian rights and specific condemnation of Hamas and its tactics.
Any ceasefire may give the new foreign secretary a little breathing space. The overall commitment to attempting a revival of a two-state solution, however unlikely that looks, will remain.
---
Afghanistan
No-one is better prepared than the former defence secretary to explain the awkwardness of withdrawal and put as positive a gloss as possible on the end of a hugely controversial UK sacrifice in Afghanistan. Here Mr Hammond will be able to speak with the authority of a very frequent visitor to the front line.
---
Iran
Here Mr Hammond does stand to gain if he is lucky enough to be on the bridge when a sustainable breakthrough with Iran is achieved.
The nuclear negotiations are so immensely complex that his immediate influence may be largely limited to how the rebuilding of the UK's bilateral relationship with Iran fares... so watch for progress in reopening the British embassy in Tehran.
---
Syria
In this area, Mr Hammond's best attribute is simply not being Mr Hague - not being the foreign secretary who suffered the humiliation of a Commons defeat of historic significance when MPs refused to endorse any UK involvement in military action against President Assad over chemical weapons.
Mr Hague was scarred by that, and by association with Western failure to prevent Syria's slide into all-consuming civil war.
---
Europe
Arguably the real political challenge for Mr Hammond. How does a high-profile Eurosceptic inspire his fellow critics of Brussels on the government benches in the Commons while at the same time avoiding such alienation of other EU states that they are less inclined to give ground in the crucial negotiations with the UK over change?
It is worth remembering that Mr Hague is also a Eurosceptic, and played a big part in the showdowns with other leaders, culminating in David Cameron's stand against Jean-Claude Juncker as next head of the European Commission.
Still, over Europe, everything Mr Hammond says and does will be scrutinised at home and in exhaustive detail in all the European Union capitals for clues to Britain's likely breaking points over staying in or getting out.
---
Global profile
Mr Hague made himself a bigger figure on the world stage than the office of foreign secretary naturally guarantees, partly through his enormous personal commitment to the campaign to end sexual violence as a weapon of war. That raised his global profile.
Now Mr Hammond has a big job to do getting his counterparts around the world to listen to the UK.