More than half of benefit cut tenants 'struggling to pay'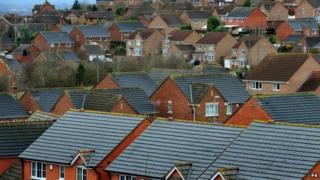 More than half of tenants affected by a housing benefit cut in England are struggling to pay the additional rent, according to an official report.
Some 59% of tenants - more than 300,000 - affected by new "spare room subsidy" rules were in arrears five months after the changes came into effect last year.
The Department for Work and Pensions analysis also found few tenants had managed to move to avoid the penalty.
DWP said its overall housing benefit changes would save billions of pounds.
But affordable housing campaigners and Labour both said the figures showed why they were calling for the changes to be scrapped.
The changes to housing benefit in England, Scotland and Wales - dubbed the "bedroom tax" by critics but described by ministers as the removal of a "spare room subsidy" - were introduced in April last year.
If tenants are deemed to have one spare room, the amount of rent eligible for housing benefit is cut by 14%. Those with two or more spare bedrooms have reductions of 25%.
The new interim report, carried out by the Cambridge Centre for Housing and Planning Research and Ipsos MORI, looked at the initial impact of the policy.
The report - the first official study into the change - found most people were paying by cutting back on household essentials, and a quarter had borrowed to pay their rent.
During the first five months, 41% of affected tenants had paid their additional rent in full but 59% were struggling - 39% had made some contribution to the additional rent but 20% had paid nothing at all.
The government say arrears in the social rented sector as a whole have fallen in recent months.
BBC social affairs correspondent Michael Buchanan said the 59% figure refers specifically to people's inability to pay the additional rent - regardless of whether they were in arrears before the changes.
However, the DWP highlighted a separate survey carried out by the National Housing Federation before the change came into effect which found 55% of all social housing tenants of working age on housing benefit already had some form of arrears.
It added research showed that widely predicted homelessness and mass migration had not materialised.
'Promising start'
The analysis for the DWP found that while many tenants hit by the cut had wanted to move, they had been unable to do so owing to the lack of smaller properties.
While 19% of tenants had registered to downsize, 4.5% had managed to do so within the first six months of the policy.
A DWP spokeswoman said this figure was a "promising start".
But David Orr, chief executive of the National Housing Federation, which campaigns for affordable housing, said the government's policy remained "flawed".
He said: "Time and time again it has been shown that the bedroom tax is pushing people into rent arrears and people have been unable to downsize because of a lack of smaller properties.
"Now the figures from the DWP prove it is not working, surely now it is time for the government to admit they got it wrong and repeal this ill-thought policy."
'Without substance'
The DWP said the government's housing benefit changes were on target to save more than £6bn between 2011-12 and 2014-15, cutting spending by £2bn a year compared to forecast levels.
Work and Pensions Secretary Iain Duncan Smith said: "This department is delivering some of the biggest welfare reforms in over 60 years, designed to return fairness to the system and we are on track to make the £6bn savings we had previously set out.
"At the same time we are helping to make sure our housing benefit reforms have a transformative effect on the lives of those who in the past were faced with a system which trapped people into cycles of workless and welfare dependency.
"The scaremongering by those opposed to our welfare reforms - in particular our housing benefit reforms - has been proven to be without substance, and we are already seeing the effects of people moving into work."
Labour's Rachel Reeves said: "Today the government admitted that over half of those paying the bedroom tax are in housing arrears.
"This shows the bedroom tax has made life harder for thousands of people.
"David Cameron should scrap his cruel and costly tax on bedrooms - if he won't a Labour government will."