Army reservists target 'faces delays'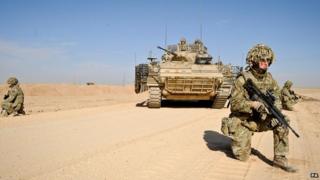 Army reservists recruited to fill gaps created by cuts to the service will not be fully trained by the target date of 2018, an external audit has found.
The scrutiny team said plans were running late because of an "extremely poor start" to a recruitment campaign.
Building up 30,000 reservists, up from 19,000 currently, should be possible, the report said. But "full trained strength" would take longer, it added.
The Ministry of Defence said it was still considering the findings.
The government has promised to offset substantial cuts to the Army by increasing the number of reservists it can call upon.
Plans 'sound'
The report, by the Future Reserves 2020 External Scrutiny Team, suggested the plan remained "viable" despite a "range of factors making them more challenging".
Retired Lt Gen Robin Brims said: "Our major concern rests with the extremely poor start made to army reserve recruiting in the first 18 months of the programme."
He said there had been improvements in recent months, but the "initial poor performance has been worrying both because it compounds the challenge to reach targets for later years and because it has been so widely publicised that it may well have become a disincentive to potential recruits in all three services".
But he said "good progress" already made by the Royal Navy and RAF suggested they would "meet their targets by 2018 for trained strength, with demonstrable collective capability by 2020 onwards".
"Delivery for the Army carries more risk," he said. "We believe the underpinning concepts and plans are sound, and it likely that the Army ought to be able to man to required strength by 2018 or shortly thereafter, but we judge that full-trained strength and operational capability will take longer."
Anecdotal evidence suggested there were enough "suitable and willing candidates" to meet recruitment targets, the report said.
But it added: "The current weaknesses are most likely to be found in poor marketing, unambitious application-to-attestation timelines and processing weaknesses."
In a statement, Defence Secretary Philip Hammond said: "I will take some short time to consider the report's findings and recommendations and we will provide a full response to the team in due course."
The report comes after a warning from the National Audit Office that the 2018 recruitment target could be missed by up to six years.