Kenya travel warning extended by Foreign Office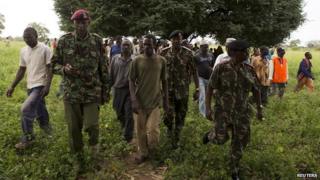 The Foreign Office has warned Britons to avoid travelling to areas of the Kenyan coast, after attacks by militants left at least 87 people dead.
The advice warns against all but "essential" travel to the coastal counties of Lamu and Tana River.
Warnings also remain in place for areas around the Kenya-Somali border, as well as parts of the capital, Nairobi.
Meanwhile, the Kenyan government has advised its citizens not to travel through London Heathrow airport.
In a statement from the Kenyan Ministry of Foreign Affairs, it warned Kenyans not to travel through Heathrow due to the "substantial threat of a possible attack" by Al Qaeda operatives.
Police station attack
It said the warning was based on "information provided by US officials", which it says indicated operatives in Yemen and Syria were developing "sophisticated bombs that could bring down a plane".
"The information states that Britain would be the most likely country to be affected," the statement said.
The latest UK advice comes after attacks by gunmen in Mpeketoni, Poromoko and Maleli Kakati - all in Lamu county - left 65 people dead following attacks last month.
One attack was carried out at a police station, where eight inmates were among the dead, the Kenya Red Cross said.
In the most recent attacks, a total of 22 people were killed in raids on 5 July in the village of Hindi, also in Lamu county, and Gamba, in Tana River county, it added.
'Constant review'
The attacks have resulted in the Foreign and Commonwealth Office (FCO) adding the regions to a list of Kenyan areas where travellers have been warned against going to.
The advice reads: "If you are currently in an area to which we now advise against all but essential travel, you should consider whether you have an essential reason to remain.
"If not, you should leave the area."
The FCO said travel advice to the country was being kept under "constant review".
In May, around 400 British holidaymakers returned to the UK from Kenya after 10 people were killed when two explosions hit Nairobi.
The tourists were flown back from the East African country's other main town, Mombasa, by tour operators Thomson and First Choice.
Both Thomson and First Choice cancelled all outbound flights to Kenya until 31 October.
The Foreign Office said 185,967 British nationals visited Kenya in 2012.