House of Lords committee launches HS2 inquiry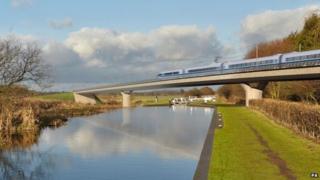 An inquiry into the economic case behind the proposed High Speed 2 (HS2) rail project has been launched by a House of Lords committee.
The Lords' Economic Affairs Committee has invited written submissions on the £50bn scheme that would connect London to Birmingham, Manchester and Leeds.
The inquiry will consider the economic benefits of the scheme and whether London would be the main beneficiary.
The inquiry comes as MPs start their own examination of the project.
The Lords committee will investigate the likely benefits of HS2 to the Midlands, the north of England and Scotland, and whether some parts of the country could lose out from the scheme.
It will also examine the possible benefits of charging HS2 customers higher fares than other rail passengers, and whether the scheme should be operated in a similar way to franchise competitions currently used on the East and West Coast Main Lines.
'Vital scrutiny'
Lord Hollick, the committee's chairman, said HS2 is likely to be "one of the biggest infrastructure investment programmes in the UK for decades", and it was "vital that the public has confidence the project will produce real economic benefits."
He added: "Our inquiry will attempt to get to the bottom of what the real economic impact of HS2 will be, who will benefit and who might lose out."
The scope of the inquiry does not include planning or the impact of the Hybrid Bill on property owners on the proposed HS2 route.
On 1 July the House of Commons started examining the nearly 2,000 objections received on the HS2 bill.
A committee of MPs will spend months or potentially years hearing from groups and individuals whose lives may be affected by the project.
MPs in the Commons will have the ultimate say on the scheme, but the committee has the power to shape what they vote for, while the House of Lords will also vote during final passage of the bill.
HS2 is intended to carry trains running at 225 mph (362km/h) from London to Birmingham from 2026, with branches to Manchester and to Leeds via Sheffield planned by 2032.