Chief inspector of prisons: Conditions 'getting worse'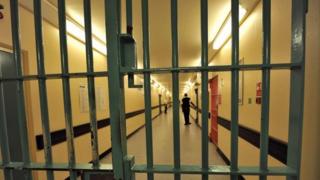 There has been a "significant" and worrying deterioration in the standards of British jails, the chief inspector of prisons in England and Wales says.
In an exclusive interview with BBC Newsnight, Nick Hardwick urged ministers to take immediate action.
He said he had "seen with his own eyes" prisoners being held in "deplorable conditions" in some jails.
But the civil servant in charge of prisons has insisted the service is safe.
'Beyond crisis'
The comments come as a report from the Howard League for Penal Reform is published which says the total number of prison officers has fallen by 30% over the past three years, to 19,325.
The charity said there had been 42 suicides in jail in the first half of this year - up from 30 in the same period last year.
Its chief executive Frances Crook told BBC Newsnight: "I am absolutely sure that lack of staff [due to] cuts in prison officer numbers are contributing to increased violence, people being locked up for longer, and as a consequence, the highest death rate we have ever had in prisons."
She said the situation was "beyond crisis", with the system pushed to breaking point.
The Ministry of Justice's own figures show the number of suicides in jail rose from 60 to 72 from 2012 to 2013 - and another rise could be on the cards this year.
Mr Hardwick told the BBC: "I think they are an indication of wider problems in the Prison Service, an indication of a prison system under growing pressure.
"It's not acceptable we have this rate of suicides in prison."
He added: "If you look since the beginning of the year, our inspection findings have dropped significantly. We are seeing a lot more prisons that are not meeting acceptable standards across a range of things we look at. And I go to most of these inspections and I see with my own eyes a deterioration.
"There is a danger I think of the politicians over-analysing the figures and miss what is under their noses on the wings, which is sometimes I think people being held in deplorable conditions who are suicidal, they don't have anything to do and they don't have anyone to talk to. We need to look at what's under our noses and sort that."
Two weeks ago, the Ministry of Justice announced it was recruiting ex-prison officers on short-term contracts to help plug gaps in jails.
Prison Governors Association president Eoin McLennan Murray welcomed the move but said his members had been urging the Ministry of Justice to do something months ago.
"We were saying we were heading for a shortage some time before the Prison Service reacted. I think they were late to react when the warning signs were there."
'Additional pressures'
Michael Spurr, chief executive of the National Offender Management Service Agency, conceded Mr Hardwick was "right" to say there had been "some deterioration" in the standards of prisons this year.
"Over the last six months in particular we have struggled with some additional pressures. The population has gone up greater than anticipated, there are more remand prisoners and sex offenders than anticipated. At the same time we have ended up with fewer staff than we need actually. Have we taken action? Absolutely we have taken action."
However, he said there had been overcrowding in British jails since he started in the service 30 years ago, adding: "To get rid of the problem would cost £900m that we do not have.
"So we are retaining the level of overcrowding, not expanding it. The crowding now is lower than it has been for the last 10 years. Of course I'd like a position where we didn't have anybody in crowded cells. But can we manage people in crowded cells safely? Yes."
He said he was worried by the suicide rates, but insisted the service was safe and that it was wrong to suggest people's lives had been put at risk by the cuts to staff numbers.