Profile: Elizabeth Butler-Sloss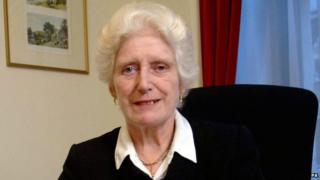 Baroness Butler-Sloss, a former senior judge, was appointed in July 2014 to lead an inquiry into allegations of historical child abuse but stood down before the inquiry started.
Her late brother, Lord Havers, had been attorney general in Margaret Thatcher's government in the 1980s - leading some MPs to question whether she was the right person to investigate allegations of paedophilia from that time.
Downing Street said her withdrawal on 14 July - seven days after being announced as head of the inquiry - was "entirely her decision".
The 80-year old cross-bench peer broke into the judicial elite when she was made President of the High Court Family Division in 1999, a post she held for six years before retiring in 2005.
Lady Butler-Sloss, who has a reputation for a no-nonsense approach, is also a pillar of the establishment, with historical links to the Conservative Party.
During a judicial career spanning 35 years, she was involved in a number of high-profile and controversial cases.
Her decisions were often sensitive, and rulings over the custody of children after divorces made her a target for campaign groups such as Fathers for Justice.
'Extraordinarily understanding'
But legal colleagues say the mother-of-three was always fair in her rulings.
Child law expert Allan Levy QC has noted her "extraordinary understanding of people from all walks of life", while Richard Gordon QC has said she is "very practical, very down to earth, very robust, and very decisive".
Her nephew, the barrister Philip Havers QC, told BBC Radio 4 she has the "greatest integrity" and recalls his times before her in court as being "exactly like appearing before someone who wasn't my aunt in the sense that she behaved exactly as if I were unrelated to her".
Lady Butler-Sloss was thrust into the public eye in the late 1980s during the Cleveland child abuse inquiry, which looked at claims parents had abused their children. Many of the children had been taken into care based on the advice of medical professionals.
Her findings resulted in the Children Act of 1989, which incorporated many of her recommendations aimed at ensuring that children were not removed from parents unless absolutely necessary.
Elsewhere, in 2013, she spoke to the Today programme about lessons that could learned from the Jimmy Savile abuse scandal, saying:
"I think if one looks at the whole concept of child sexual abuse - friends, neighbours, colleagues, find it extremely difficult to believe that the nice guy they work with, or play bridge with, could possibly behave like that. Most people are in a very understandable denial, that it really could happen."
In other famous cases during her legal career, Lady Butler-Sloss also:
Ruled that the young killers of toddler James Bulger should be entitled to lifelong anonymity
Overrode the wishes of the parents whose 15-year-old daughter, already a mother, sought an abortion
Dismissed an appeal by millionaire racehorse owner Ivan Allan against an order that his former mistress, Glory Anne Clibbery, should be allowed to reveal details of their relationship
Blocked a mother's attempt to have her 29-year-old mentally disabled daughter sterilised
Blocked a man's legal battle to see a test-tube baby daughter, who was conceived after his relationship with the mother broke up
Supported the adoption of children by gay couples in 1999, although she did not go so far as to advocate a change in the law
Later, Lady Butler-Sloss took on the role of coroner in the inquests into the deaths of Diana, Princess of Wales and Dodi Al Fayed.
But she suffered a number of setbacks, most notably when Mohamed al Fayed, Dodi's father, won a judicial review against her decision to sit without a jury. In April 2007, after less than a year in the job, she announced her intention to quit.
She entered the House of Lords in 2005. In 2013, she apologised to peers for wrongly claiming Fathers4Justice made death threats against her.
Lady Butler-Sloss comes from an eminent legal family - her father and grandfather were both High Court judges. Her father sentenced to death Ruth Ellis, the last woman to be hanged in Britain.
Her brother Michael was one of the longest serving attorney generals of the past 40 years, serving as the government's chief legal officer between 1979 and 1987.
Sir Michael Havers was a Conservative MP for 17 years before getting a peerage in 1987 and briefly becoming Lord Chancellor before he retired from front-line politics. He died in 1992.
As attorney general he faced criticism after he sought to stop Tory MP Geoffrey Dickens from naming in Parliament a top diplomat - Sir Peter Hayman - as a paedophile in the early 1980s.
Election loss
Lady Butler-Sloss went to Wycombe Abbey School and sat the equivalent of A-levels at the age of 16.
Her attempt to join her brother at Cambridge University was unsuccessful, and instead she spent a year at the University of Lausanne in Switzerland, before dropping out when her mother fell seriously ill.
She enrolled in secretarial college but a lack of degree did not stop her studying to be a lawyer and aged 21, she was called to the Bar in 1955.
As one of about only 60 women barristers in England and Wales, she had to battle against prejudice, from both other lawyers and clients. In search of work that other barristers would not do, Lady Butler-Sloss built up an expertise in lorry licensing.
After marrying another barrister, Joe Butler-Sloss, and starting a family, she opted to take up her first judicial appointment as a divorce registrar, partly to cut down on travelling.
In 1959 Lady Butler-Sloss stood, while pregnant, as Conservative candidate in the Labour stronghold of Vauxhall. After she lost, she set up and ran a nursery for toddlers at a basement in the Temple, one of the Inns of Court.
She became a judge in 1970 and won a series of rapid promotions, being appointed a High Court judge in 1979 at the age of 46 and in 1988 the first woman at the Court of Appeal. Here she was known as Lord Justice Butler-Sloss because Parliament had not yet considered the notion that a woman would rise that high.
Lady Butler-Sloss is married with three children. One of her nephews is the actor Nigel Havers.