Woman accused of attempting to smuggle cash in underwear to Syria fighters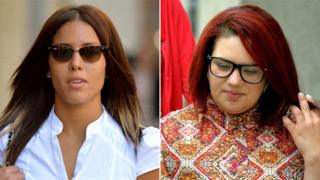 Two women have gone on trial accused of arranging to smuggle cash to fighters in Syria after one was allegedly found with 20,000 euros in her underwear.
Nawal Msaad, 27, from north London and Amal El-Wahabi, 27, from north-west London are appearing at the Old Bailey.
Ms Msaad was stopped at Heathrow Airport boarding a flight to Istanbul on 16 January. She was recruited by Ms El-Wahabi, whose husband is fighting in Syria, it is claimed.
Both women deny all charges.
Prosecutor Mark Dennis QC said that when Ms Msaad was arrested she was asked if she understood what was happening and replied: "I do, but I'm in shock."
'Buying gold'
The court heard that when she was searched at the airport she pulled a roll of cash - made up of 500-euro banknotes - from her underwear, which Mr Dennis said had been concealed in her body inside a condom.
There were also four 200-euro notes and two 100-euro notes found inside the stash.
Ms Msaad told police she had been planning to buy gold for her mother, the jury heard.
But Mr Dennis insisted the money "had been raised in this country and had been destined to support the jihadist cause" - which Ms El-Wahabi's husband Aine Davis was "now pursuing with like-minded supporters".
The prosecution alleged that the smuggling attempt had been instigated by Mr Davis, who, it was claimed, is fighting with jihadists in Syria.
The court heard that Mr Davis adopted the name "Hamza" and had spent time living in Saudi Arabia and Yemen.
Mr Dennis said Mr Davis had left the UK on a flight to Amsterdam in July 2013, and messages to his wife indicated that he had decided to stay "in Muslim lands".
The jury was told that on the same day that Ms Msaad was arrested, police also went to Ms El-Wahabi's home where they seized mobile phones.
Ms El-Wahabi denied to police any knowledge of her husband's alleged jihadist behaviour, but material recovered from the phones was at odds with this claim, the court heard.
Kalashnikov
Mr Davis had sent her photos and videos which contained jihadist propaganda, Mr Dennis said.
He said one video sent in September 2013, showed a "boy martyr" aged between 10 and 13 holding a Kalashnikov rifle.
The court heard that Ms El-Wahabi, who was living on benefits, had been reluctant to follow her husband, and leave behind her friends and family.
But by December last year she was warming to the idea of joining him, jurors were told.
The case continues.