Abbas Khan: Psychiatrist to help Syria doctor inquest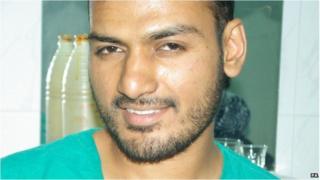 A psychiatrist will be asked to investigate the mental state of a British doctor in the days before his death in Syrian government custody.
Dr Abbas Khan, 32, a father of two from London, was working in a field hospital in a rebel-controlled part of Syria when he was arrested in November 2012.
Syrian officials said his death in custody more than a year later was suicide, but his family dispute this.
A pre-inquest hearing in London has asked for medical reports on Dr Khan.
At the Royal Courts of Justice, counsel to the inquest Samantha Leek QC said a team of medical professionals would be instructed to produce detailed reports of Dr Khan's health before he died.
Murder claim
As part of this a psychiatrist would be told to investigate his "mental state immediately prior to his death," Ms Leek said.
Dr Khan, an orthopaedic surgeon, crossed into Syria from Turkey without a visa and was captured in Aleppo.
He later told his family he was "accused of treating dying civilians" which had been "classed as an act of terrorism".
He died on 17 December last year.
Syrian authorities say he was found hanged in his cell, but the UK Foreign Office has said he was "in effect murdered".
His family also believe he was killed by his captors.
Dr Khan's body was flown back to the UK less than a week after his death and a post-mortem was carried out.
The 30-minute pre-inquest hearing was adjourned until September.
The inquest is listed for 13 October and is due to last for three weeks.