Paralympics 'transformed attitudes' towards disabled people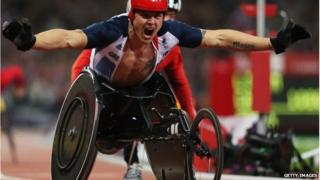 More than two-thirds of people believe attitudes towards disabled people have improved since the Paralympic Games in 2012, a survey has suggested.
But while 68% held this view, only 56.1% of the disabled people questioned agreed compared with 70.7% of non-disabled people.
The study involved nearly 10,000 people during the first three months of 2014.
Minister of State for Disabled People Mike Penning said the Paralympics had led to a transformation in attitudes.
The survey, by the Office for National Statistics, was carried out to mark two years since the Paralympic Games in London.
It also comes at the first anniversary of the launch of the Disability Confident campaign, launched by Prime Minister David Cameron last year and designed to break down barriers in employing disabled people.
Equestrian Sophie Christiansen, who won three gold medals at the 2012 Paralympics and two at the previous event in Beijing, said: "London 2012 not only inspired a generation, it challenged the ideas of a generation about what disabled people were capable of.
"Just because we might be a bit different does not mean we should be looked at any differently. We all have unique talents and deserve the opportunity to fulfil our true potential."
'Lasting legacy'
The Commonwealth Games in Glasgow, which begin later this month, will feature more disabled athletes than ever in the competition's history - 50 from Britain's home nations alone will compete in 20 events.
Mr Penning said: "London 2012 helped lead to a transformation in the representation of, and attitudes towards, disabled people in Britain.
"It challenged mind-sets and left a positive lasting legacy. But more still needs to be done to challenge perceptions.
"Twelve million people in Britain have a disability - that's one in five of us. Disabled people have the same aspirations as everyone else, particularly in the workplace.
"That is why we have travelled round the country over the past year with the likes of Sophie Christiansen and Simon Weston to speak to big business about employing more disabled people."