Rolf Harris: Experts divided over length of jail term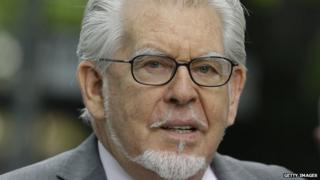 Experts have disagreed on whether the prison term handed to Rolf Harris represents sufficient punishment.
The disgraced entertainer was jailed for five years and nine months for 12 indecent assaults on four victims.
The Association of Child Abuse Lawyers' president said sentencing Harris under old guidelines was "bizarre" and his term should be extended.
Police commissioner Vera Baird said he should not serve longer than the law demanded at the time of the offences.
Harris was prosecuted based on the law when his offences were committed, when the maximum sentence for indecent assault was two years in prison, or five years for victims under 13.
His sentence has already been referred to the Attorney General's Office under the "unduly lenient sentence scheme".
The offences took place between 1968 and 1986 against four girls aged seven or eight to 19.
'Good principle'
Ms Baird, the police and crime commissioner for Northumbria and the former Solicitor General for England and Wales, said uncertainty created by changing the sentence would be "very poisonous".
She said: "I'm hugely sympathetic and supportive of the victims who have been fabulously courageous to come out and make clear what's happened.
"It's a very important principle that when somebody does something they know the consequences.
"You can't be charged with a more serious offence than you knew you were committing at the time.
"I think it is very very harsh on the victim because the victims would see their perpetrator getting a lot heavier a sentence but the principle seems to me a good one."
'Quite bizarre'
Peter Garsden, president of the Association of Child Abuse Lawyers, said the sentencing process was "a bit of an anachronism" and it didn't "make much logical sense" for judges to use old guidelines.
"I think that there needs to be a change of law. I found the logic to be quite bizarre but it's a well-ingrained sentencing policy and that seems to be the justification for it.
"If you said to the public the reason Rolf Harris's sentence was shorter was because the judge was tied by old sentencing guidelines, they would find it somewhat bizarre.
"The victim has suffered many more years of torment waiting for this case to come to court so therefore the damage to the victims is greater and the sentence should be greater.
"It's a bit like saying that somebody who committed a murder in 1963 and is tried now should actually be hung [sic] because the sentencing guidelines then were that there should be a hanging."
'Enormous cost'
There are 3,536 prisoners aged over 60 in prison in England and Wales, an increase of 120% since 2003. Of these, 42% are serving sentences for sex offences.
More than 80% of older prisoners have a chronic illness or disability.
Stuart Ware from older prisoners' charity Restore Support Network said this presented a problem.
"The big question mark is do we have special prisons for older people? Or secure care homes if they're going to be given life sentences," he said.
"How are they going to be cared for? The cost to the prison service is enormous.
"With the longer sentence is a cost implication, not only whilst they're inside but when they come out."