Satisfaction with police drops, IPCC survey finds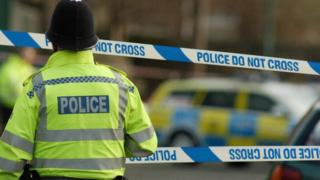 Satisfaction with the way people are dealt with by police in England and Wales has dropped significantly in the past three years, a survey has found.
Two thirds of people are "happy" or "very happy" with their treatment - down from three quarters in 2011, according to the poll carried out by the police watchdog earlier this year.
People from ethnic minority groups and young people were even less satisfied.
One police body said people were seeing "tangible results" after complaints.
The Police Federation of England and Wales added that public perception of policing had "remained consistently high".
'Significant' drop
The survey of more than 4,000 people in England and Wales was carried out for the Independent Police Complaints Commission (IPCC).
Pollster Ipsos MORI, which conducted the survey between February and March, said the drop in satisfaction levels - to their lowest for 10 years - was "significant".
The report also found:
One in three people were not confident that if they complained to the police it would be handled fairly
Three quarters of people would complain if they were "really unhappy" about a police officer - but 40% were not confident they would know how to do so
People from ethnic minority groups were less likely to say they would complain, and more likely to fear harassment if they did so
Young people were less likely to be happy about their treatment by police - but less willing to complain
Over the previous 12 months, 23% of those surveyed had been in contact with the police.
Less than half of black people (48%) were happy with their interactions with officers, down from 59% three years ago. For Asian people, the figure also dropped - from 69% to 59%.
---
Analysis
Danny Shaw, BBC home affairs correspondent
At the Home Office, among police and crime commissioners and chief constables, these figures will prompt serious concerns.
Although the headline two thirds satisfaction level is in line with other police confidence surveys, there will be searching questions as to why it's dropped so sharply, especially among black and Asian people.
Has there been a dramatic decline in police standards? That seems unlikely. So, are police budget cuts to blame? Some officers will say the cuts have adversely affected their ability on the ground to have prompt and meaningful interactions with members of the public.
Or, could it be that people's expectations of how police should behave have increased following a series of scandals - Hillsborough, undercover policing, "Plebgate"? That may be the most plausible explanation.
---
Dame Anne Owers, who chairs the IPCC, said most of the 30,000 complaints made to the police each year were handled by the service itself.
She said: "This survey shows that too many people are still either unsure of how to make a complaint about the police or don't believe their complaint will be dealt with fairly.
"It is particularly worrying that young people and those from ethnic minorities have lower confidence in the complaints system."
There is "more work to be done" to improve trust in the complaints system, she added.
'Important insight'
The IPCC recommended extra guidance for forces on how to handle police complaints, as well as better information for the public on how to complain.
And it said the police disciplinary system should be reformed to make it "more timely and transparent".
Steve Evans, vice-chairman of the Police Federation of England and Wales, said 73% of people had said they would feel comfortable filing a complaint about police officers.
He added: "Public perception of policing has remained consistently high over the past 10 years and this is in part due to the fact that the public see tangible results when they make complaints.
"Of course the lower numbers of confidence among people from ethnic minorities is an issue we need to address and improve on in the future."
Deputy Chief Constable Alan Goodwin, the national policing lead for police complaints and misconduct, said the report gave an "important insight" into the complaints system.
He said: "The report shows a mixed picture across the country and although it indicates that a growing proportion of people would complain if they were unhappy with their interaction with the police service, there are some sections of the public who appear less so inclined."
Forces would continue to work to build trust in the complaints system, he added.