The search for Samantha Lewthwaite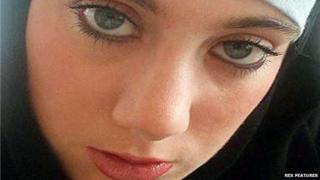 On 22 September last year, smoke billowed over the Westgate Shopping Mall in Nairobi, Kenya. Troops and police ducked between buildings amidst sporadic gunfire as militants from Somalia's al-Shabab network carried out an assault that left dozens dead.
I'd landed a few hours earlier, in search of a 29-year-old English woman, Samantha Lewthwaite. The widow of one of the 7/7 bombers, she was on the run in East Africa.
A few hundred metres from the mall - with the attackers and the hostages inside - the media were encamped. Reporters stood on top of satellite trucks, or sat on the curb filing from laptops. Rumours billowed. The front pages of our newspapers soon accused Samantha Lewthwaite of masterminding the operation that killed more than fifty people. Other reports claimed that she had "blood on her hands".
So was the so-called "white widow" the leader of this gang of terrorists, the builder of bombs, and wielder of an AK47?
For the last year, I've been tracing Samantha's life from her hometown in Aylesbury, where she converted to Islam shortly before completing her A-Levels. From then, she seems to have drifted slowly from a benign version of Islam to a more violent creed. She met Germaine Lindsay on a Stop the War demonstration in 2002. Three years later, he killed himself and 26 others on the London tube.
I followed her trail to South Africa where, in 2008, she was introduced to her second husband by the radical preacher Sheikh Abdullah el-Faisal. And then onto Kenya.
She is married into a family with deep connections to key people in al-Qaeda. But it seems unlikely that this strand of radical and violent Islam would support a British woman as a frontline soldier let alone a leader.
"Jihadi ideologues consistently say that women are key to the success of jihad - but as mothers and daughters and sisters," says Dr Nelly Lahoud, of the Combating Terrorism Center at the US military academy.
"They could also encourage the mission of jihad by publications and education. The heart of women's role of jihad is not a military one, it's not on the battlefield."
Dozens of pages of handwritten notes found in Lewthwaite's Mombasa house when she disappeared appear to support this notion.
They contain parables to teach her children about Islam, aphorisms about the women's role in the home and a synopsis for an ideological tract. "I have for many years now wanted to write something that would benefit my brothers and sisters a message of hope, encouragement and light when many are still in darkness."
'Terrorising disbelievers'
There is an outstanding arrest warrant for Lewthwaite which alleges that she was in possession of explosives and was intending to kill innocent citizens in Mombasa in December 2011. It does seem likely that she was part of this conspiracy, but perhaps in a support role - paying the rent on a house that was to be the operational base rather than its mastermind.
As for Westgate, after the attack the CCTV footage showed just four men wielding guns. The group responsible al-Shabab denied that it would ever use a woman. And no other evidence has been forthcoming to suggest that she was involved.
But even if Samantha Lewthwaite isn't the operational terrorist that some would have us believe, she is still a fervent believer in unpalatable jihadi ideas and a supporter of those who take violent action. As her notes say: "I asked for a man that would go forth give all he could for Allah and live a life of terrorising the disbelievers."
She's now on the run somewhere in Africa, probably behind high walls and barb wire, supported by those who also believe in this ideology.
The White Widow: Searching for Samantha, BBC1, Wednesday 22.35 BST.