Ministry of Justice recruits reserve prison officers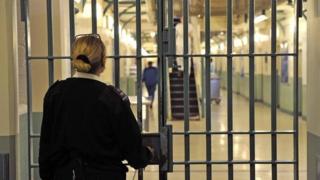 The government has started recruiting a reserve force of prison officers for England and Wales, the BBC has learned.
The initiative was called the HM Prison Service Reserve by the Ministry of Justice, in a letter sent to ex-prison officers to gauge interest.
Those who sign up could be called in on short-term contracts from August.
The MoJ explained in the letter the move would help it respond to short-term demands, such as a rise in inmate numbers or "operational pressures".
One prison officer who received the letter told the BBC: "The reason for this 'reserve force' being considered is the critical shortage of prison officers in prisons up and down the country."
It comes after the government last month ordered dozens of already full jails to take more inmates because the jail population - which stands at about 85,000 - was growing faster than expected.
'Zero-hours contract'
The MoJ said 100 "reservists" were being recruited on short-term contracts of between three and nine months.
They would be deployed nationally, "where there is a need for them", said a spokesman.
The spokesman said staff who left their jobs through the voluntary early departure scheme would be eligible, though they would have to repay any payments they had received.
The letter also acknowledges any ex-officer who joins the reserve may find it has an impact on their pension.
The MoJ said reserve staff would be paid pro-rata salary based on the number of hours they worked and receive travel costs.
They would be subject to the same terms and conditions as other staff doing the same job, said the spokesman.
But the former prison officer criticised the scheme, saying the terms of one of the offers was "almost a zero-hours contract".
It is understood a number of former officers have rejected the offer.
'Address weakness'
In the House of Commons earlier this month, Justice Secretary Chris Grayling said he would address "a weakness in our prison system" - "the fact that we have no access to the kind of temporary or agency staff routinely found in our health and education systems".
"I am establishing a reserve capability among former staff to give us the flexibility to adapt to short-term changes of population by bringing reserve capacity into operation," he said.
Forty prisons in England and Wales have been told to raise their "operational capacity" at a time when most prisons are running at full capacity or are overcrowded.
It follows the closure of 16 prisons in the past four years, with a number of them closed at short notice.