England fan has piece of ear 'bitten off' at World Cup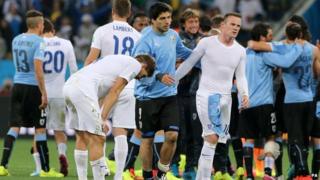 An England football supporter had a piece of his ear bitten off by another England fan at the World Cup in Brazil.
The assault happened during England's match against Uruguay in Sao Paulo on 19 June, British police deployed to the tournament have said.
Local officers started an investigation after the fan made a complaint but the assailant has not been identified.
Confirmation of the incident came after radio pundit Stan Collymore tweeted he had seen footage of a "fan attacked".
Six British police officers travelled to Brazil for the tournament. Their role was to offer support and advice to Brazilian police and local authorities as well as to oversee the thousands of travelling England fans.
Chief Supt Rachel Barber, who led the British operation in Brazil, said her officers were made aware during the match "that an incident had taken place which resulted in an England fan having a portion of his ear bitten off by another England fan".
She added: "In the immediate aftermath, we managed to make contact with the victim and offered advice and support. The day after the attack, the victim chose to make a formal complaint to the local police, and they opened an investigation.
"During the course of our pursuit of the assailant, we located and interviewed several witnesses. They were very helpful in giving their version of events, but, unfortunately they were unable to give us a name for the alleged attacker."
She said officers observed supporters at England's final match against Costa Rica on 24 June in Belo Horizonte "but it appears he did not travel to that game".
"Efforts are ongoing to identify the suspect and bring him to justice either in the UK or, if possible, back in Brazil where the offence occurred," she added.
'Crying'
Football blogger Billy Grant was at the Arena de Sao Paulo at the time and became aware of the incident when he heard arguing.
"All of a sudden, he [the attacker] just laid into this guy, and everyone starts saying: 'What's going on?'
"I thought he was actually Uruguayan because I thought he was probably caught in the middle of the England fans, somebody probably said something to him and he hit back."
He said he later heard a woman crying and saying: "Oh my God, I can't believe he's done that."
Mr Grant said he asked another fan what had happened: "We said 'what's going on mate, that Uruguayan, what was going on?'
"And the guy said: 'He wasn't Uruguayan, he was English, and he racially abused my mate here and he bit his ear off.'"
A Foreign Office spokesman said: "We are aware of an incident in Sao Paulo on June 19 involving a British national and we provided consular assistance."
England lost the Uruguay match 2-1 after two goals from Luis Suarez, who found himself in trouble with football's world governing body Fifa for biting an Italian player in a later match.
The result effectively ended England's chances of qualifying from the group stage of the World Cup and their early departure from Brazil was confirmed when Costa Rica beat Italy the following day.