UK has accepted 50 Syrian refugees so far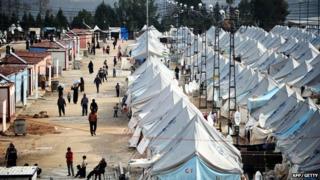 The UK has accepted 50 Syrian refugees so far under its resettlement programme, ministers have confirmed.
In January the government announced its "vulnerable person relocation scheme" aimed at helping the "most needy people" fleeing the war-torn country.
Labour had urged the government to sign up to the separate United Nations quota scheme.
Home Office Minister Karen Bradley said "several hundred" people were expected to arrive over the next three years.
Quota system
The total so far was released in response to a written parliamentary question from Liberal Democrat MP Julian Huppert.
Ms Bradley said: "The scheme is based on need, rather than designed to meet set arrival projections. However, we will continue to bring groups here on a regular basis, and envisage that several hundred people will be helped over the next three years."
Approximately 2.5 million people are thought to have fled Syria since the conflict started.
Earlier this year, Labour threatened to force a Commons vote on the UK joining the United Nations High Commissioner for Refugees (UNHCR) refugee quota scheme.
Questioning the need for a quota system, the government instead set up its own version to run in parallel with the UNHCR scheme.
'Greatest need'
It prioritises women and children who are at risk or in need of medical care, as well as survivors of torture and violence.
Unveiling it at the time, Prime Minister David Cameron told MPs the UK would "act with the greatest urgency" in offering the "most needy people" in Syrian refugee camps a "home in our country".
He said that countries which had signed up to the UNHCR scheme should not feel that by taking a few hundred people they had fulfilled their obligations.