Hacking trial 'good result for public' says Lord Blair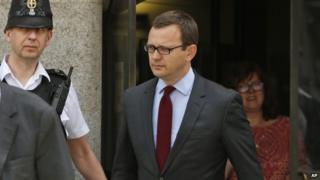 Former Metropolitan Police commissioner Lord Blair has defended the phone-hacking trial, saying it was a "good result for the public".
Former News of the World editor Andy Coulson was convicted on Tuesday of conspiracy to hack phones.
Lord Blair said the investigation showed the "absolute toxicity of the News of the World newsroom".
He also said allegations the Met's witness protection scheme was targeted by phone-hacking were "very serious".
Lord Blair also said criticism of the 2006 hacking investigation was justified, as it was "closed down too quickly".
He said the reasons for the investigation being dropped prematurely was because it had come at the same time as developments in a plot in which suicide bombers planned to detonate liquid explosives on various flights from the UK to the US.
"It was the same unit investigating it. I think it should have been put to one side and then reinvestigated later on."
Trial costs
When asked about justifying the cost of investigating and prosecuting breaches of privacy by journalists, Lord Blair said: "Once you get into an investigation of this scale, you are going to follow the evidence, and that's what they have done.
"This was a very serious conspiracy at the heart of the newspaper industry and I do think it was right to pursue it the way they have done."
While some reports have put the cost of the trial at up to £100m, HM Courts and Tribunal Service said it was impossible to calculate as it did not keep case-by-case records.
The Crown Prosecution Service said its costs alone were £1.7m - of which £1.2m went on barristers' fees.
Lord Blair also described allegations the Met Police's witness protection scheme had been targeted by phone-hacking as "extraordinary".
"That's a very serious allegation, but at the same time, the Met was tackling the most extraordinary problem that it had ever come across, in the sense of the terrorist activities.
"And that is where certainly my attention was focussed. I am not exculpating myself - somebody should have told me that. I did not hear that."
Former News International chief executive Rebekah Brooks and her husband Charlie were acquitted by the Old Bailey jury on Tuesday, along with three other defendants in the hacking trial.
Including Coulson, there have been eight convictions relating to hacking since 2006, when private investigator Glenn Mulcaire and royal editor Clive Goodman were first jailed.
Ahead of the 2013-14 hacking trial, five people pleaded guilty: Glenn Mulcaire for a second time, reporters Dan Evans and Neville Thurlbeck, and news editors Greg Miskiw and James Weatherup.
There have been 14 convictions of public officials for taking or seeking payments - seven of them police officers - as part of Operation Elveden, which is investigating corrupt payments.