Former TUC leader Norman Willis dies at 81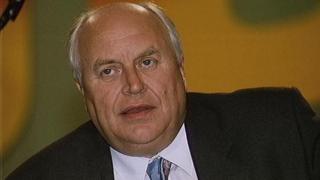 Tributes have been paid to the former TUC General Secretary Norman Willis who has died at the age of 81.
Mr Willis became TUC leader in 1984 during the miners' strike and stayed on until his retirement in 1993.
His successor, John Monks, praised him as a "kind and sensitive man" who helped steer the organisation through "the most tempestuous industrial relations period of the post war era".
He joined the TUC in 1973 from the Transport and General Workers' Union.
Born in Hayes, west London, Mr Willis started his career at the TGWU as an office boy, leaving to complete his national service.
In his early 20s, he studied philosophy, politics and economics at Oxford University, before rejoining the TGWU, eventually heading its research and education department.
He moved to the TUC in 1973 as assistant general secretary and became deputy general secretary in 1977.
TUC general secretary Frances O'Grady said: "Norman Willis led the TUC with distinction during some of the most difficult years in the trade union movement's history - a period that included the challenges of the miners' strike and Mrs Thatcher's onslaught on trade unionism.
"But he will also be remembered as a warm, kind and immensely amusing colleague by all who worked alongside him."
Former TUC general secretary Brendan Barber highlighted Mr Willis's work for trade union and human rights around the world and his efforts to overthrow Apartheid in South Africa.
In retirement, Mr Willis was a trustee of the Royal School of Needlework, a President of the Arthur Ransome Society and forged a career as an after-dinner speaker.
The TUC said he passed away peacefully on 7 June and a private family funeral was held at Woking Crematorium in Surrey on 18 June.