Rolf Harris: Dark side revealed under court's spotlight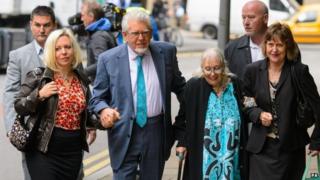 Rolf Harris is a natural performer in front of the camera, used to the attention that comes with fame.
Turning up for a criminal trial for sex offences at one of London's busiest crown courts would present him with a challenge he had yet to meet in his six decades in entertainment.
It was important to create the right impression.
So, on day one, and every other day his security team (broad-shouldered men with razor-cut hair and grey suits) tried, largely unsuccessfully, to melt into the background on the pavement outside court as Rolf Harris arrived by car.
He was never alone. That would not look good. Usually, he made the slow walk up the steps to the court building with his loyal wife of more than 50 years, Alwen, holding one hand, his only daughter, Bindi, the other. When Alwen was not there, his niece Jenny filled the void.
It was a familial show of support for a self-confessed double adulterer. This was a man who had an affair with his housekeeper under his wife's nose and had, by his own account had "just sex with no frills" with his daughter's childhood friend when she was just 18 or 19.
Daughter's journey
Bindi's friend was the first complainant to come forward to allege that Rolf Harris had abused her as a child. Bindi's presence was a statement as to where her loyalties lay.
The prosecution barrister scoffed that this was a "staged" entrance, just for show, and in many ways it was a charade.
Bindi had not, in fact, travelled to court with her father. Every day, she would wait at a coffee shop just around the corner from the court.
She would be picked up out of sight of the cameras so she could arrive in the car with her parents. At the end of the day, the same scenario was played out in reverse.
Ironically, Bindi could not go into the courtroom for the first two weeks of the trial as she was to be a defence witness. She was not allowed to listen to other testimony for fear it might contaminate her evidence.
In the glass-fronted dock of Court 2 Rolf Harris became The Defendant. His only companion was a uniformed court officer. He wore a headset so he could hear the proceedings in a courtroom with notoriously bad acoustics.
The headset appeared to have a built-in microphone. On day one, when the judge Mr Justice Sweeney was addressing potential jurors, The Defendant turned to the court officer and remarked: "He's good, isn't he?"
Court drawings
That was the last we heard of Rolf Harris for some time. As accuser after accuser went into the witness box, he filled the time by sketching.
Presumably no-one had told him that it is against the law to draw in court. Even court artists have to draw their sketches from memory after leaving the courtroom.
We never did find out whether his sketches were classic Rolf Harris artworks. They were confiscated and destroyed. One journalist commented that the judge could have made a lot of money if he had kept and sold them.
Another, mimicking an Australian accent, asked: "Does he know what it is yet?" It was the sort of juvenile humour that is a regular feature in unpleasant cases such as this.
There was no light relief, however, in the accounts of abuse given by a succession of women, now in their 40s and 50s.
All but one gave evidence anonymously, most shielded behind a curtain to put them at ease. Some of the witnesses appeared to be damaged, vulnerable. Others were angry, indignant as they recalled what they said had happened when they were young children or teenagers.
Much of it was too graphic for the mainstream media to report. Inevitably, it will have left the public with a misleading impression of the seriousness of the charges.
The allegations were not simply a case of over-familiarity of the kind said to be have been prevalent in another age. One of those involved was aged just seven or eight at the time.
'Dark side'
When it was his turn to testify, The Defendant briefly became Rolf Harris the celebrity once more, gently encouraged with questions from his own barrister.
It resembled an edition of Desert Island Discs, the Rolf Harris life story, interspersed with music.
For the benefit of younger jurors, the entertainer explained what a didgeridoo was and how he had created the instrument he called the wobble board.
For the avoidance of doubt, he made the sounds of both. He even performed a few lines of one of his songs. Jake the Peg, he said, was about someone with an extra leg (diddle-diddle-diddle-dum).
His mood changed when the claims of sexual assault were put to him. The performance was over. His voice dropped. At times he became almost inaudible.
He denied he had indecently assaulted anyone, but his wholesome image disappeared in a flash as he admitted a series of sexual encounters with his daughter's friend, who was 35 years younger than he was.
It was, he accepted, not a deep-abiding love affair. It was just sex with no frills and no conversation when opportunity arose. He admitted that when the girl was 13, he had admired her bikini-clad body.
He agreed that he was "pretty good" at hiding his dark side.
Even before the verdicts were in, his reputation was damaged.
Now the one-time national treasure is a convicted sex offender. His fall from grace is complete.