Phone-hacking jury considers final verdicts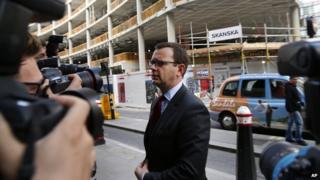 The jury in the phone-hacking trial is considering more charges against Andy Coulson as the PM faces questions about why he was appointed to a No 10 role.
The former News of the World editor has been found guilty of conspiracy to hack phones. Ex-News International chief Rebekah Brooks was cleared.
David Cameron has apologised for taking Coulson into Downing Street but defended his conduct before MPs.
Meanwhile, the Guardian said police are to interview Rupert Murdoch.
Metropolitan Police officers investigating the possibility of a corporate charge against News International - now known as News UK - first contacted the media magnate last year but agreed to wait until the end of the hacking trial, the Guardian reported.
'Horrible experience'
Coulson's conviction comes after five other people pleaded guilty to their involvement in phone hacking before this trial started last October.
Former News of the World royal editor Clive Goodman and private investigator Glenn Mulcaire have already served jail terms, in 2007, for hacking the phones of members of the royal household.
The Old Bailey jury is still considering charges of misconduct in public office against Mr Goodman and Coulson.
The outstanding charges relate to allegations the pair agreed to pay for two royal phone books.
Royals, celebrities and victims of crime had their phones hacked by the now-defunct News of the World, which was closed in July 2011 after revelations about Milly Dowler's voicemails being accessed came to light.
Police say thousands of people's phones were targeted.
Coulson, who faces a maximum of two years in prison for hacking, and former News International chief executive Mrs Brooks were among seven defendants on trial at the Old Bailey.
The former colleagues had an on-off affair for at least six years from the late 1990s, details of which were revealed during the trial.
'No victory'
Victims of hacking have reacted to the verdicts, with Milly Dowler's sister Gemma speaking about "serious crimes... being committed on a major scale in parts of the press".
She said: "Ordinary people have suffered terribly from journalists who recklessly intruded into private grief and stole private information.
"And now those same newspaper groups who let us down so badly before have set up another meaningless regulator called Ipso.
"This is just the newspapers looking after themselves. Something needs to be done to make sure what happened to my family doesn't happen again."
She also spoke out about the "incestuous relationship between our top politicians and the press" and called on the prime minister to fulfil the promises he made to her family about press regulation.
Sienna Miller told ITV that while the whole matter makes her feel "incredibly angry", she feels "like justice is being done".
Broadcaster Ulrika Jonsson, whose phone was hacked, said she felt "physically sick" at the personal information obtained by the hacker.
She told BBC Newsnight: "It was a horrible experience and just quite scary."
And former home secretary David Blunkett told the BBC that revelations about his private life reported in the News of the World almost caused him to have a nervous breakdown.
Former deputy prime minister Lord Prescott, another victim of hacking by the News of the World, told BBC Radio 4's Today programme: "The courts have established there was wholesale, almost industrial hacking, affecting thousands of citizens."
He rejected the suggestion that Tuesday's partial verdicts were a victory for the tabloids, saying: "It's the same tabloids that were telling us this was a rogue reporter and continued that lie for a long time.
"I've been involved for six years trying to prove what they were doing and now in fact they are saying it's almost a victory for them."
Lord Prescott added that there now needed to be an independent body to regulate the press, as recommended by Lord Justice Leveson.
'Questions to answer'
Mr Cameron has apologised for a lapse of judgement in employing Coulson as his director of communications.
Coulson started working for the Conservative Party in 2007, having been News of the World editor for the previous four years, and became director of communications after the 2010 election.
He resigned the following year when allegations about phone hacking at his former newspaper resurfaced.
"I am extremely sorry I employed him. It was the wrong decision," said Mr Cameron.
The issue is expected to be raised in the Commons during Prime Minister's Questions on Wednesday.
Harriet Harman, Labour's deputy leader, said Mr Cameron still had questions to answer about why he ignored advice not to appoint Coulson.
She said the plight of hacking victims, including murdered schoolgirl Milly Dowler and the parents of missing Madeleine McCann, was already "known about" when Coulson worked in Downing Street.
Ms Harman also questioned Mr Cameron's comment that he had given Coulson a "second chance".
She said: "That does not wash. He was not somebody who'd admitted what he'd done and was turning over a new leaf."
Tuesday's verdicts in full were:
Coulson was found guilty of a charge of conspiracy to intercept voicemails
Mrs Brooks was found not guilty of conspiracy to hack voicemails, two counts of conspiracy to pay public officials and two counts of conspiracy to pervert the course of justice
Former News of the World managing editor Stuart Kuttner was found not guilty of conspiring to hack voicemails
Cheryl Carter, Charlie Brooks and News International's former head of security Mark Hanna were cleared of conspiracy to pervert the course of justice
The charges of conspiracy to pervert the course of justice against Mr and Mrs Brooks, Ms Carter and Mr Hanna related to July 2011.
Mrs Brooks was accused of retrieving boxes, with the help of Ms Carter, from the News International archive relating to her time as editor of the News of the World and the Sun.
She was also accused, along with her husband and Mr Hanna, of hiding personal computers from the police.
Five other people have already pleaded guilty to related charges of conspiracy to hack phones.
Glenn Mulcaire, a private investigator, former news editors Greg Miskiw and James Weatherup and reporters Dan Evans and Neville Thurlbeck had previously admitted their role in the plot to get stories by intercepting voicemails.