Two Britons die in 'jeep safari' crash in Turkey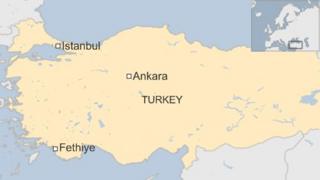 Two British people have died and two Britons have been taken to hospital after a "jeep safari accident" in Turkey, the Foreign Office has said.
The crash happened near Fethiye, in the south-west of the country, it said.
Reports suggest an open-top vehicle crashed into a telegraph pole as the group - which included three Turkish nationals - returned from a day trip to the Saklikent Gorge.
The Foreign Office said it was providing consular assistance.
A spokesman said: "We are aware of a jeep safari accident near Fethiye in Turkey involving four British nationals, two of whom have died and two of whom have been hospitalised."
Three Turkish nationals, including the driver, were also injured, according to reports.
Saklikent Gorge is a mountain gorge around 27 miles (44 km) from the town of Fethiye and around 310 miles (500 km) south west of the Turkish capital Ankara.